Swiss Capuchin Franciscan friars advertise for recruits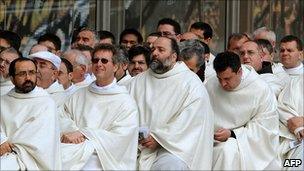 Roman Catholic friars in Switzerland have placed a job advert in a newspaper as part of a recruitment drive.
The Capuchin order says it is looking for professional single men like bankers or lawyers aged 22 to 35 to join its dwindling ranks.
The community, which has 200 members with an average age of 70, hopes the ad will help recruit 10 to 20 men.
Adverts for craftsmen, technicians and men in social professions are to follow, a spokesman for the order said.
The Capuchin order - one of the Franciscan orders - is calling for young Catholic "bankers, journalists, teachers, theologians, tradesmen, lawyers, communication specialists" to consider joining the order.
Applicants should be independent yet capable of communal living, curious and show initiative, the ad says.
"We offer you no pay, but spirituality and prayer, contemplation, an egalitarian lifestyle, free of personal material riches and the common model of a couple relationship," it says.
The number of Capuchin friars in Switzerland has dropped by half in the last 10 years.
The order has had to close two friaries in a decade, and a third in Appenzell is to close next year.
"Our form of life offers an alternative even if the times of large orders are over," a spokesman said.
Related Internet Links
The BBC is not responsible for the content of external sites.