How EU institutions work: European Central Bank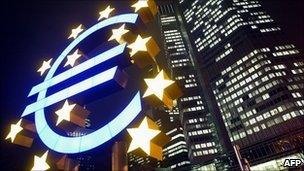 The European Central Bank in Frankfurt is responsible for monetary policy within the 16-nation eurozone.
Its main goals are maintaining price stability and safeguarding the value of the euro. It does this together with the eurozone's national central banks, by setting interest rates, conducting foreign exchange operations, and managing national foreign reserves.
The ECB aims to ensure that the year-on-year increase in consumer prices is less than, but close to, 2% over the medium term.
The bank is formally independent, along the lines of the German Bundesbank. When taking decisions on monetary policy, neither the ECB nor the national central banks are allowed to take instructions from EU institutions or member states.
Related Internet Links
The BBC is not responsible for the content of external sites.