'Holocaust grave' discovered in Romania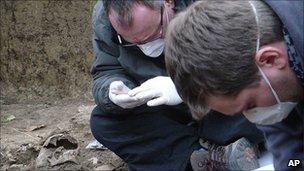 A mass grave containing the bodies of about 100 Jews killed during the Holocaust has been discovered in Romania, researchers say.
The burial pit was found in a forest about 350km (220 miles) north-east of the capital, Bucharest.
It is thought to contain the remains of men, women and children shot in 1941 by troops of the pro-Nazi Romanian regime.
Up to 380,000 Jews are believed to have been killed in Romanian-controlled territory during WWII.
The mass grave was found near the village of Popricani, near the city of Iasi, following testimonies from local inhabitants, who witnessed the killings.
"So far we exhumed 16 bodies but this is just the beginning because the mass grave is very deep and we only dug up superficially", Adrian Cioflanca, a Romanian historian involved in the dig, said.
It is only the second Holocaust-era mass grave discovered in Romania since 1945.
Related Internet Links
The BBC is not responsible for the content of external sites.