Greece resumes mail delivery after parcel bomb ban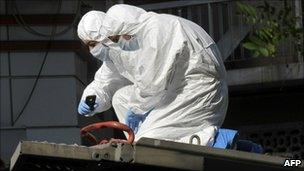 Greece has resumed deliveries of mail and packages abroad, lifting a ban it imposed after a series of parcel bombs.
The devices were sent to embassies in Athens and to European governments.
Analysts say the bombs were probably meant as a show of force by Greek leftist militants.
Greek Foreign Minister Dimitris Droutsas said: "The evidence so far shows we are dealing with extreme left, anarchist groups."
Police in Athens on Thursday safely destroyed a letter bomb sent to the French embassy, the 14th suspect device found in Greece over the past week.
The package sent to the French embassy was blown up outside a courier company.
Police also carried out controlled explosions at Athens airport on packages addressed to International police organisation Europol in the Netherlands and the European Court of Justice in Luxembourg.
Small devices exploded at the Swiss and Russian embassies on Tuesday.
The letter bombs apparently did not contain enough explosives to seriously harm any recipient, with police saying most burst into flames when they opened.
On Monday, a parcel bomb addressed to the Mexican embassy in Athens blew up at a courier office, slightly injuring an employee.
Police later arrested two suspects and found two more bombs, one addressed to French President Nicolas Sarkozy and the other to the Belgian embassy.
German officials said a parcel bomb sent to Chancellor Angela Merkel's office had come from Greece.
Terrorism experts suspect the co-ordinated campaign is the work of a group called the Conspiracy of the Cells of Fire, which is trying to spark revolution in Greece during the current period of austerity.
The parcel bombs have raised anxiety levels in Greece in the run-up to this weekend's vital local elections, our correspondent says.
The elections are seen as a referendum on the socialist government's handling of the economic crisis, and Prime Minister George Papandreou has warned he may call a general election if his party is soundly defeated.
Related Internet Links
The BBC is not responsible for the content of external sites.