Catholic Church in Spain fights Franco-era image
By Sarah Rainsford
BBC News, Toledo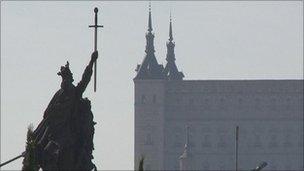 Just inside the ancient city walls of Toledo, the church of Santiago el Mayor is still busy on Sundays.
Whilst one priest says Mass, another hears confession in a booth at the back. There are several services in a row but the congregation is shrinking, even in this former bastion of Spanish Catholicism.
One priest estimates that only around 10% of his parishioners attend Mass regularly now. The national average is 14.4%.
It is one indication of the state of the Church here, as Pope Benedict XVI arrives for his second visit since taking office.
Following a pilgrimage to Santiago de Compostela, he will consecrate the Sagrada Familia in Barcelona, Anton Gaudi's famous unfinished work.
The Church in Spain has largely escaped the sexual abuse scandals that caused so much damage in Ireland, America and elsewhere but it is facing its own set of challenges.
After the transition, many Spaniards turned away as democracy and secularism became synonymous.
"It's true we don't have as much influence as we used to have," Fr Gonzalo admits after Mass in Toledo, laughing that his own nephews see him as a "dinosaur".
"But perhaps it's necessary to be more humble now, and accept we are not called to have quick results?
"We preach the Gospel and perhaps the ones coming afterwards will harvest what we have sown."
But the society the Church is preaching to has been transformed.
Despite protests from the Church, the Socialist government has ended obligatory religious education in state schools and legalised abortion on demand in a drive to secularise.
A reform to remove religious symbols from state institutions, including schools, will be the next battleground.
"We need to find a new way to be in society as people with a message to offer, not to impose like in the past," believes Juan Rubio, editor of Vida Nueva magazine.
He argues the Catholic hierarchy has failed to adjust to Spain's new social reality: "The power in the Church, the Bishops, are in a fortress. They are afraid."
Increasingly sidelined politically, the Church is still functioning on the ground even in Chueca - the Madrid neighbourhood that has become Spain's gay capital, crammed full of rainbow flags and adverts for same-sex saunas.
At San Jose church - one of several serving the parish - a steady flow of the faithful drop in from early morning to attend Mass or just to pray.
Immigration from Latin America has helped fill the pews but some new arrivals have been shocked by the kind of Catholicism they have found here.
"The teachers at my sons' state school make fun of them for being devout," says Ines, from Venezuela.
"There's no tolerance and that's hard."
Fr Miguel Angel, the San Jose parish priest, says: "We are living in the midst of paganism and indifference.
"The next generation's faith is weak. But it does exist - and we can build on those foundations."
But just up the road, a group of men meet every week whose faith is far from weak. They come together in a Chueca basement to sing hymns and pray. Devout, active Catholics, they are also actively gay.
"We want to show the world there is no sin in being homosexual, that it's an expression of God's love," explains Oscar - who was confirmed as a Catholic like most here, but says the group do not feel welcome in any church.
"I think they just do their job, celebrate Mass, but they don't care about our necessities, our lives.
"They have to stick to the official message that homosexuality is not permitted. I don't think they're interested in working with us pastorally."
Like elsewhere, religion in Spain is being "privatised," becoming a matter of personal conscience, not Commandments.
But in the birthplace of Opus Dei, and other ultra-conservative groups, there are still Catholics anxious to resist that.
Back in Toledo, another group of young Catholics also meet every week to explore their faith and pray.
They call their group "Catholic Pride", formed to defend the traditional values its members feel are under attack now.
"Our government is not Catholic," explains Isabel, upset at her religion's fall from fashion.
"Not only that, it has no respect for Catholics or for Spain's Catholic tradition."
There is certainly residual religious feeling in Spain, even though religious practice has plummeted.
The latest poll showed that 73% of Spaniards still define themselves as Catholic.
But that figure is falling, every year.
Related Internet Links
The BBC is not responsible for the content of external sites.