Celebrities give push to German tongue in ads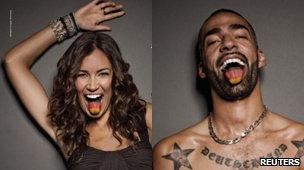 The German tongue is being used quite literally in an ad campaign aimed at encouraging immigrants to learn the language and integrate.
Celebrities from ethnic minorities stuck out their tongues for the camera - tongues emblazoned with the German black-red-gold national colours.
They include a Turkish-origin regional minister, a rapper and a footballer.
Integration was the focus of a national conference chaired by Chancellor Angela Merkel on Wednesday.
The issue has gripped the nation in recent weeks - an issue heightened by Mrs Merkel's comment last month that multiculturalism had been a failure in Germany.
The ads, due to run until the end of February, are appearing in newspapers and magazines, including the mass-circulation Bild and Turkish daily Hurriyet, which has many readers in Germany's large Turkish-origin community.
National integration plan
"Speak out. Get into life" is the slogan accompanying the celebrity pictures. They were sponsored by the German Foundation for Integration, set up by prominent German publishers in 2008.
The celebrities include German hip hop artist Denyo (real name Dennis Lisk), Brazilian-origin model and TV presenter Jana Ina Zarrella, Lower Saxony Families Minister Aygul Ozkan, footballer Jerome Boateng and rapper Oliver Harris.
Mrs Merkel told the integration forum in Berlin that specific targets and deadlines were required to make integration a reality. The delegates agreed that a national action plan should be drawn up within a year.
Mrs Merkel warned of penalties for newcomers to Germany who refused to attend integration classes.
A number of delegates were sceptical, including Kenan Kolat, chairman of the Turkish Community in Germany organisation, who said "it was actually only a monologue".
Berlin's mayor Klaus Wowereit, quoted by the Reuters news agency, complained that Mrs Merkel had not pledged "the urban development funding so important for integration".
Integration courses have been running since 2005, to teach immigrants German language and customs.
Germany has an estimated 15 million people with ethnic minority backgrounds, including about four million Muslims - western Europe's second largest Muslim community after France.
Related Internet Links
The BBC is not responsible for the content of external sites.