China and France sign deals as Hu Jintao visits Paris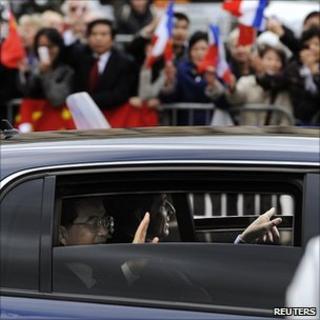 China's President Hu Jintao has signed billions of euros' worth of business deals during a state visit to France.
They included spending 10bn euros (£8.6bn; $14bn) on 102 Airbus planes, as well as telecoms and nuclear deals.
France's President Nicolas Sarkozy received his guest with full military honours, and has laid on an extravagant programme of events and ceremonies.
But activists complain that China's human rights record is being ignored in the rush to sign lucrative contracts.
Unusually for a three-day state visit, there will not be a joint press conference between the presidents, so there will be no opportunity for Western journalists to question Mr Hu on issues like Tibet, press freedom and the imprisonment of dissidents.
Business deals are the firm focus of the trip.
On Thursday evening, deputy Chinese Foreign Minister Fu Ying said investment contracts signed that day had already totalled 14bn euros, and said China planned to double the value of its annual imports from France to 56bn euros over the next five years.
The deals apparently included a 2.5bn-euro agreement with French nuclear giant Areva to supply uranium, and another to build a uranium treatment plant in China.
Also, Total said it was planning to invest 2-3bn euros in a Chinese petrochemical plant.
And the Franco-American telecoms giant Alcatel-Lucent said it was signing a 770m-euro deal with three Chinese operators - China Mobile, China Telecom and China Unicom.
"China should not be seen as a risk but an opportunity," Mr Sarkozy said ahead of Mr Hu's arrival. "It's not by reproaching people for things that you make progress."
Mr Hu said in a statement: "China and France share broad common interests and huge potential for co-operation."
France has made great efforts to mend relations with China after they nosedived two years ago.
Following a Chinese crackdown on Tibetan protesters in March 2008, President Sarkozy came close to boycotting the opening ceremony of the 2008 Beijing Olympics.
He eventually decided to attend, but incensed Beijing later that year when he met the Tibetan spiritual leader, the Dalai Lama.
China called off a summit with the EU and high-level contacts with France in protest.
Cosy restaurant
But the two countries patched up ties last year and Mr Sarkozy seemed determined to give Mr Hu a warm welcome, meeting him personally at Orly airport.
There was to be a state dinner with their wives on Thursday evening, a visit to the Arc de Triomphe, and then a cosy Provencal meal at a restaurant in Nice on Friday.
Between all these events there will be more meetings with business leaders and contract-signing ceremonies.
Mr Sarkozy will also be keen to address the issue of trade imbalances, amid rising concern around the world that China is keeping its currency artificially low, to benefit its exporters.
Mr Sarkozy is hoping to negotiate a deal on currency reform during France's presidency of the G20, which begins next week.
From France, Mr Hu will travel on to Portugal on Saturday.