Baby born to Romanian girl, 10, in Spain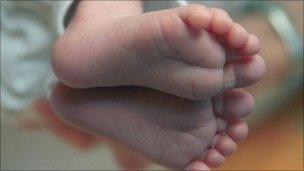 A 10-year-old girl from Romania has given birth in southern Spain, officials in the region have said.
The girl gave birth to a daughter last week in the city of Jerez de la Frontera, said Andalucia's social affairs minister Micaela Navarro.
Officials are deciding whether the mother and her family can keep custody, Ms Navarro said.
The father of the baby is also believed to be a minor, aged 13, who is still in Romania, Spanish media have said.
"What we have to ensure is that both the mother, who in this case is a minor as well, and the baby are absolutely taken care of," said Ms Navarro.
"If they can be well cared for, they can stay with the family," she said.
The baby's grandmother, who is a Roma gypsy, was photographed in Spanish newspapers smiling outside the family's modest block of flats in the town of Lebrija, AFP reports.
Her 10-year-old daughter is reported to have moved to Spain from Romania just three weeks ago.
The woman, identified only as Olimpia, was quoted as saying that the mother was "very well, like the daughter, who is very well and very pretty".
According to the Andalucia daily, Diario de Jerez, which first reported the story, the grandmother could not understand the wide level of interest in the case as "this is the age we get married in Romania".
The latest statistics show that 177 girls under the age of 15 gave birth in Spain in 2008.
Related Internet Links
The BBC is not responsible for the content of external sites.