Parcel bomb sent to Germany's Angela Merkel from Greece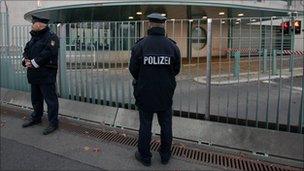 A package sent to German Chancellor Angela Merkel from Greece contained explosives, officials say.
Mrs Merkel's spokesman, Steffen Seibert, said the device had been deactivated by the security forces.
Mrs Merkel was on a visit to Belgium at the time.
The package was intercepted in the chancellery's mail room earlier on Tuesday during a routine inspection of the post.
Mr Seibert said it showed "marks that indicated the possibility of explosives" and police were immediately alerted. He added that the package contained sufficient explosive to have caused harm to people.
Interior Minister Thomas de Maiziere said the package was sent two days ago and resembled a series of small mail bombs delivered in the Greek capital, Athens.
"Based on everything that we know, it was built in the same way and visually resembled the package that exploded at the Swiss embassy in Athens," he said.
Small bombs exploded or were intercepted at several embassies in Athens on Tuesday. No-one was harmed in the attacks, blamed on an extreme left-wing group.
One of the Athens bombs was intercepted at the offices of a courier company and addressed to the German embassy. Police destroyed it in a controlled explosion.
The mail room in Berlin is outside the main chancellery building, which was not evacuated.
It was delivered by United Parcel Service (UPS) and had as its return address the Greek ministry of economic affairs, a source told the German daily Der Tagesspiegel.
Related Internet Links
The BBC is not responsible for the content of external sites.