Bringing Turkey's coup leaders to book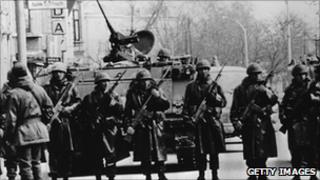 For 30 years, the officers who led the last military takeover in Turkey have lived secure in the knowledge that they could not be prosecuted for their actions, thanks to an article inserted in the constitution they drafted in 1982.
So, unlike other countries that experienced military rule - Chile, Argentina and Poland - Turkey's coup leaders have never been called to account for their actions. Until now.
Yalcin Ergundogan can still remember his time in Izmir police station, 28 years ago, as if it were yesterday.
"They jammed me, blindfolded, inside the rim of a [large] tyre, and then put the tyre into a sack together with a cat and a rat. I had to feel and hear them fighting around my body for hours.
"Another time they told me they were dropping me from a top floor window - they dropped the sack down some steps instead."
Yalcin's 'crime' was to campaign against the constitution which the military administration had drafted after the 1980 coup.
He was a left-wing union leader at the time: one of about 600,000 people detained after the coup, many of whom endured unspeakable torture.
Another 30,000 people were driven into exile, 50 were executed by hanging.
That military constitution remains in effect today in Turkey, and is much-criticised, at home and abroad.
Turkish politicians have been unable to agree on a new charter, but the existing one has been amended several times, most extensively in September this year through a package of reforms proposed by the governing Justice and Development Party or AKP, and approved by a nationwide referendum.
Immunity
One of the most talked-about amendments was the annulment of Temporary Article 15 of the constitution, which gave the coup leaders sweeping immunity from prosecution.
Yalcin was one of dozens of people who went to court on 13 September, the day after the referendum, to open a case against the coup leaders.
They came from all sides of the Turkish political spectrum, from leftist groups - the main target of the military in 1980 - and groups sympathetic to the conservative, Islamic-rooted AKP.
Some were Kurds, who also see themselves as principal victims of the coup, because of the harsh military response to Kurdish separatism that started shortly afterwards.
Another plaintiff was world-renowned video artist Kultug Ataman. He was just 18 when the police came for him.
He had been making experimental films about street protests in the months before the coup.
"I was tortured for 28 days. I saw and heard other people constantly being tortured, being given electricity, screaming. Each time we went to the toilet or to eat, we were beaten up."
Comfortable retirement
General Kenan Evren, the coup leader, is now 93 years old, and lives in comfortable retirement on the Aegean coast, spending his time painting.
Earlier this year he threatened to commit suicide if he was brought to trial.
But it is not clear that this will happen.
One reason is that the statute of limitations for crimes in Turkey is 30 years.
The referendum which approved taking Article 15 out of the constitution took place exactly 30 years after the coup, so, technically, the coup leaders are no longer liable for prosecution, at least for the crime of overthrowing the government.
But lawyers for the plaintiffs argue that the statute of limitations should only start from the moment the generals' immunity was lifted, on 12 September this year.
Prosecutors are currently studying the complaints, but the habitually slow pace of Turkey's judiciary means it could be months, or even years, before any case goes to trial.
General Evren may not live to face his accusers in court.
And there are many Turks who oppose putting the coup leaders on trial.
Among them is Ertugrul Ozkok, until recently chief editor of Turkey's best-selling broadsheet newspaper, Hurriyet.
He argues that to condemn General Evren and his colleagues for what they did 30 years ago is to ignore the chaotic conditions in the country at the time.
"Every day at least 20 or 30 people were shot dead, either by left-wing terrorists or right-wing terrorists."
Law professor Turgut Tarhanli at Bilgi University is among the many liberal thinkers in Turkey who hope that the lifting of Article 15 will open the door to a process of reconciliation over the 1980 coup - along the lines of South Africa's Truth and Reconciliation Commission.
"The violators, the responsible authorities at the time," he says. "They should realise they did something wrong, and they must express this to society."
Yalcin Ergundogan says he does not want to see a frail and elderly general go to jail.
"But I want the truth to be revealed. I want the military's intervention against a democratic government to be recognized as a crime."