Josef Fritzl 'dreams of being freed to care for wife'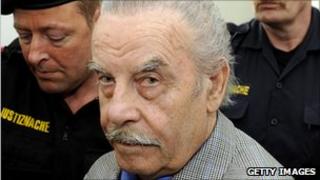 Josef Fritzl, the Austrian who locked his daughter in a cellar for 24 years and fathered seven children by her, has said he dreams of leaving prison.
Fritzl, now 75, told reporters that he often thinks of his wife of 55 years and would like to care for her.
He was jailed for life in March 2009 and is being held at the maximum security Stein prison 30 miles (50 km) west of Vienna.
The interview is thought to be his first since he was convicted.
He told Germany's Bild newspaper he had written to his wife Rosemarie eight times without reply but was convinced she still loved him.
"I would later love to look after my wife because she was always faithful to me," he said.
Fritzl blames the authorities for the fact that neither she nor any of his 13 children have come to visit him in prison.
While Fritzl may be eligible for parole after 15 years, psychiatric experts would have to agree to his release and his lawyer said at the time of the trial that Fritzl was expecting to stay in jail for the rest of his life.
He was convicted of rape, incest, enslavement and murder and it is clear from the interview that he is kept well away from other inmates because of the nature of his crimes.
Two armed guards are said to watch over him constantly for his own protection.
Fritzl also describes the mundane routine of his life, growing tomatoes and peppers and watching comedy programmes on television.