Church of Ireland loses big in AIB share wipeout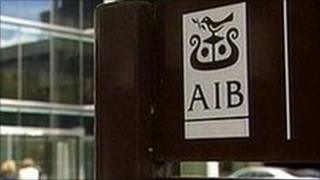 The value of the Church of Ireland's shareholding in Allied Irish Bank has plummeted by more than 17m euros (£14.7m) following the collapse of the institution's share prices.
The Church has seen its stake in AIB dwindle from a high of 17.3m euros to just 262,500 euros (£228,000) because of the shares wipeout.
At the height of the boom four years ago, shares were priced at 23 euros (£20) each. On Thursday night prices dropped to a new low of just 34c (29p) each.
The Church of Ireland is one of the biggest individual shareholders in the AIB with 750,000 shares.
'Not immune'
The Representative Church Body (RCB) manages the Church's shares.
A spokesperson for the RCB said: "The Church of Ireland is not immune from the very difficult financial environment here in Ireland and worldwide, the impacts of which are creating major problems for many people, organisations, and governments.
"In common with the experience of others, invested assets held for the Church by the RCB have lost a substantial amount of value in the past few years.
"These investments are in general held for the long term, and it is expected that, over time, the value of investments should recover."
Shares in AIB sank to their lowest level since April on Thursday as news of a new executive chairman failed to re-assure the markets.
And prices are likely to fall even further when the Irish government increases its stake in the bank to 90% in December as part of a 3.7bn euros cash injection by the state.
The Church of Ireland said it will now have to adjust its spending in the wake of the loss of income from share dividends.
The spokesperson added: "The RCB on behalf of the Church seek to manage ongoing expense commitments to match lower income levels in the short to medium term, to ensure that the work of the Church continues through the ongoing economic difficulties."
According to the Irish Independent the Church of Ireland is not the only loser in the share collapse.
The Catholic Church and several charities, including the Irish Society for the Prevention of Cruelty Against Children and the Samaritans, are also reeling from significant losses.
Siobhan Creaton from the Irish Independent said the figures show how the economic collapse has affected all sectors of society.
She added: "Churches and charities are amongst the worst hit.
"The Church of Ireland are one of the single biggest shareholders. It's a huge loss on their investment.
"The church would have also earned very significant dividend payments on the shares over the years and that would have been used to fund work in their parishes and the various work they do.
"A lot of individual parishes and charities have also seen shares wiped out and dividends reduced."