Headscarf row mars Turkey's anniversary celebration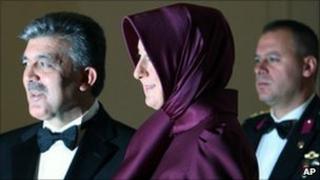 Turkey's main opposition leader and military officials have failed to attend the Republic Day reception hosted by President Abdullah Gul.
Mr Gul had decided to allow his wife to wear the Islamic headscarf at the event in Ankara. In previous years he had held two separate receptions.
The fiercely secular army held its own reception, just before the president's.
Mr Gul's move is seen as a symbolic challenge to restrictions on wearing the scarf in public.
It also reflects the government's growing confidence that it can overturn the restrictions, correspondents say.
The Supreme Court recently has warned their relaxation violated the constitution.
Women are currently forbidden from covering their heads in many universities and all government offices, but few universities are complying and the education ministry says it will back any student flouting the ban.
President Gul had in the past held two receptions, so secular officials and military staff would not have to shake hands with his headscarf-wearing wife, Hayrunnisa.
'Creeping Islamisation'
The leader of the main opposition Republican People's Party (CHP), Kemal Kilicdaroglu, did not attend the presidential reception to mark the founding of modern Turkey by Mustafa Kemal Ataturk.
"I am going to celebrate it among the people," he said.
However, he added: "We are being unfair to the first lady. It is wrong to suggest that we are not going there because she wears a headscarf. Her choice of dress is her concern, not ours."
Meanwhile, the military held its own reception that started half an hour before the president's.
The BBC's Jonathan Head in Istanbul says headscarves matter a great deal in Turkey.
The fact that Mr Gul's wife wears one initially blocked Mr Gul's bid for the presidency three years ago, and his Justice and Development Party (AKP) narrowly avoided being banned by the Constitutional Court.
Our correspondent says the president's decision to throw down the gauntlet is a mark of the government's growing confidence that it can overturn the restrictions on headscarves, something its conservative supporters have long demanded.
Secular Turks fear that lifting the ban may be the start of a creeping Islamisation of Turkish society.
The government has repeatedly dismissed such fears as groundless.