EU and Libya reach deal on illegal migrants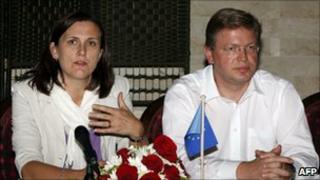 The EU and Libya have reached a deal on stemming illegal migration but Brussels offered only a fraction of the aid requested by Tripoli.
EU commissioners agreed with the Libyan government to supply up to 60m euros (£52m, $83m) in aid over three years in return for protection for migrants.
Libya's leader, Muammar Gaddafi, was asking for 5bn euros a year to boost border controls.
His country is a key route for Africans seeking to enter the EU illegally.
In 2009 alone, about 106,000 illegal migrants were intercepted on the borders of the EU.
'International standards'
The border management agreement was reached by Stefan Fuele and Cecilia Malmstrom, the EU enlargement and home affairs commissioners respectively, after talks in Tripoli.
Under it, Libya is expected to create legal guarantees for migrants and asylum seekers in return for EU aid and advice.
"The co-operation agenda foresees supporting Libyan efforts in establishing a protection system... in line with international standards," said commission spokesman Michele Cercone.
"Until now, the Libyan authorities have never wanted to co-operate... on protection of asylum seekers."
The border management agreement is not unique for the EU, which has similar deals with several other states through which it provides technical, training and other assistance.
On a visit to Italy in August, Col Gaddafi called for payment of at least 5bn euros a year to stop African migrants creating a "black Europe".