Germans mobilise against Stuttgart rail project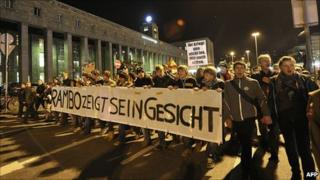 Emotions are running high in Stuttgart, where an estimated 50,000 people protested on Saturday because trees had been felled to make way for an upgraded railway station. Earlier, German police used water cannon and pepper spray to clear opponents from the site.
The BBC's Berlin Correspondent Steve Evans examines why stations arouse such passions and why these protests are putting Chancellor Angela Merkel to the test.
There is a long history of people protesting against the destruction of stations. New ones might function better, but old stations often have romance and resonance.
That is certainly what the people who saved New York's Grand Central Station from the wrecking ball in the Sixties and Seventies would say. Former First Lady Jackie Kennedy was hugely important in the long-running campaign to block the redevelopers' plans.
Earlier, opponents of demolition had failed to save the Pennsylvania Station, Manhattan's great secular cathedral of light, with its breathtakingly high vaults of steel ribs and glass which let the sun shine in. (Grand Central is magnificent in a different way: it is like a sombre cathedral of ethereal darkness and awe.)
Station-saving seems to be a particularly middle-class issue - a conservative cause in the true sense. Think of magnificent St Pancras in London, destined to be turned to rubble in the brutalism of the Sixties, but saved by a campaign led by a poet.
And not just any poet, but by Sir John Betjeman, the quintessential voice of middle-class England. In gratitude, his statue now stands in the middle of the saved and renewed station, now transformed into the London terminal of the Eurostar that connects Britain with Paris and Brussels.
Burning issue
But what does all of this have to do with Germany, you might ask?
The answer is that the country's burning issue at the moment revolves around the future of Stuttgart station, in the southwestern state of Baden-Wuerttemberg.
Mrs Merkel has her hands full with many things - economics and energy policy, to name but two - but it is the future of this station which is bringing people onto the streets in their tens of thousands, and bringing out police to clear them away very forcibly.
Her problem is that it is a middle-class issue. Stations get people worked up and it is exactly her kind of people who are doing the protesting - and who are getting bruised and bloodied and drenched in front of lots of television cameras.
The project - known as Stuttgart 21 - involves knocking down a large part of the station, which survived World War II. The railway lines would go underground.
The mega-project involves cutting down hundreds of trees. And if there's one thing which works people up more than stations it may be trees. So there have been prayer vigils under the copper-coloured boughs of the ancient and majestic beech trees of the Schlossgarten, with protesters singing We Shall Overcome.
All this redevelopment is meant to enable high-speed trains to go right across Europe from Paris to Bratislava, and also to link this wealthy region of southern Germany to the high-speed rail network and lucrative markets for German businesses.
The cost is put by the authorities at about 4bn euros (£3.5bn; $5.5bn). And if there's one thing that gets people even more worked up than stations and trees, it's money.
The plan's opponents say the cost will turn out to be much higher, and the mood of heightened austerity means that the opposition is all the stronger.
And on top of that, in the current anti-corporate mood, the critics say the Merkel government is leaning too far in favour of commercial interests.
Boost for opposition
The station, then, has become a symbol of wider discontent. It is a lightning rod, with Mrs Merkel strapped to the base.
It is a very uncomfortable place. Her critics are not assuaged by statements that "the government is saddened by images such as those we saw from Stuttgart; disputes should be carried out peacefully".
The protests and, more importantly the coverage of the protests, are pure gold for the Greens, who have soared in the opinion polls. One recent national poll put them on a record high of 19%, enough with their Social Democrat allies on 30% to trump Mrs Merkel's coalition on 36%.
She has some time before elections next March in Baden-Wuerttemberg state, which has been controlled by Mrs Merkel's Christian Democrats since 1952. Were she to lose those, though, the writing would be on the wall for her.
But the more immediate test is how to deal with the weekly protests, which seem to be escalating in size and bloodiness.
Mrs Merkel needs the project to go through, and all the demolition and cutting down of trees involved. If it is blocked, a key link in the middle of a very long, very expensive high-speed railway line will not be there, and Germany would have failed to honour commitments to its partners in the project.
But if it goes ahead, the cost in terms of confronting protesters with police clubs and water cannon would be politically very high.
Mrs Merkel might find that being on the bottom of a lightning rod causes bad political burns.