Partial Bosnian vote count suggests divided presidency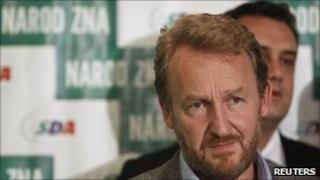 Partial election results indicate that Bosnia's tripartite presidency could remain divided over the country's future.
With half of the votes counted, the Croat and Muslim seats of the presidency look to go to supporters of a unified Bosnia, the electoral commission said.
The leading Serb candidate has been advocating separation from the country.
The complex constitution means voters chose five presidents and 700 MPs.
With 73.8% of votes counted, Bakir Izetbegovic was leading the race for the presidency's Muslim seat, the electoral commission said.
Mr Izetbegovic, who is the son of Bosnia's wartime leader Alija Izetbegovic, is considered to be more moderate than the present Muslim member of the presidency, Haris Silajdzic.
He has called for compromise with the other communities to overcome the deep ethnic divisions that still paralyse the country 15 years after the Bosnian war.
The candidate leading the race for the Croat seat, incumbent Zeljko Komsic, is also a strong supporter of a unified, multi-ethnic Bosnia.
Serb incumbent Nebojsa Radmanovic in contrast backs the idea of Bosnian Serb secession from the country.
If final results bear out the early returns from polling stations, the presidency might again be split over the unity of the country rather than end the political stalemate that is blocking economic reforms and clouding Bosnia's chances for EU membership.
Some three million people were eligible to elect leaders of the central government and two semi-autonomous regions, the Serb Republic (Republika Srpska) and the Muslim-Croat Federation.
They were also deciding who will take the seats in the central parliament and in the two regional assemblies.
The two separate entities were set up by the 1995 Dayton peace accord, which ended the 1992-95 Bosnian war.