Serbs go to Kosovo to enthrone new Patriarch Irinej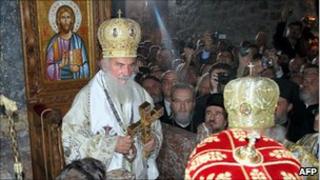 Thousands of Serbs have attended the enthronement in Kosovo of the new head of the Serbian Orthodox Church, Patriarch Irinej.
The ceremony in Pec was the first of its kind since Kosovo declared independence from Serbia in 2008 - a move Serbia has refused to recognise.
Serbian President Boris Tadic was among those attending the event.
Patriarch Irinej called for peaceful co-existence between Serbs and the Albanian majority in Kosovo.
But in a reference to Kosovo's independence, he urged the international community not to back a solution that he said would deprive the Serbian nation of its heritage, property, sacred sites and ancestral graves.
Tensions
The Serbian Orthodox Church remains opposed to Kosovo's secession from Serbia.
Patriarch Irinej, formerly bishop of Nis, is seen as a moderate and a moderniser.
He succeeds the highly popular Patriarch Pavle, who died at the age of 95 in November after a long illness.
About 900 police officers were deployed around the site at Pec, along with European Union police and Nato peacekeepers.
Three buses carrying visitors from Serbia were stoned on their way back from the ceremony, Kosovo police said. Three people have been arrested.
Two Serbian party political leaders, Tomislav Nikolic and Velimir Ilic, were turned back when they attempted to cross into Kosovo.
Pec, the historic seat of the Serbian patriarchy, was badly damaged during the war in Kosovo in 1998-99.