Missing US balloonists 'unlikely to have survived'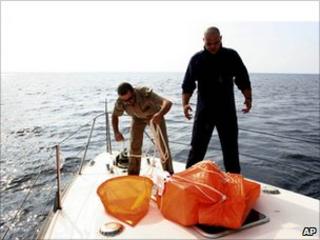 Two US balloonists who went missing over the Adriatic Sea while taking part in an endurance race are unlikely to have survived, race organisers have said.
Richard Abruzzo and Carol Rymer-Davis disappeared in a thunderstorm on Wednesday off the east coast of Italy.
Radar readings from their balloon's tracking device showed they plunged towards the sea at 80km/h (50mph) before signals stopped.
The pair were taking part in the Gordon Bennett gas balloon endurance race.
Ships and aircraft from Croatia, Italy and the US continued searching for them on Friday.
'Very pessimistic'
Other competitors now believe their balloon was struck by lightning.
In a statement, the race organisers said they had received recorded transponder readings from Croatian air traffic control which showed the balloon had a moderate descent rate to begin with.
However, this then increased to 50mph.
Organisers said this was "very pessimistic information" and survival was unlikely.
Both balloonists were highly experienced and had previously won the race.
Richard Abruzzo came from a ballooning family: his father, Ben, made the first successful balloon flight over the Atlantic in 1978.
The race began near the English city of Bristol last weekend.
The 19 other balloons taking part in the race had landed safely by Wednesday.