Irish government looks set to get large stake in AIB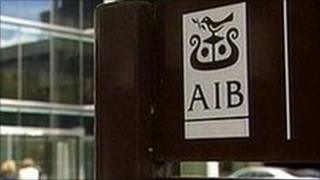 It now seems inevitable that the Irish government will end up holding a large majority stake in the country's second largest bank, Allied Irish Bank (AIB).
AIB needs to raise 7.9bn euros by the end of year to comply with the rules on how much money it holds in reserve, in case of more trouble in the banking sector.
Ireland's finance minister Brian Lenihan said on Thursday he had been advised that AIB would find it difficult to raise all this money through the open market and that the state would have to step in.
Mr Lenihan was announcing what he hopes will be a comprehensive plan, finalising the rescue of Ireland's banks.
The government stake in AIB will bring a fourth financial institution under Irish State control following the bank bailouts.
Mr Lenihan said the high level of state support being provided to AIB is "absolutely necessary", given the central role it plays in the Irish economy and its Irish financial system.
AIB's managing director and executive chairman are to step down.
Colm Doherty, who took up the role as managing director last November, will leave before the end of the year.
Executive chairman Dan O'Connor is to step down in the coming weeks.
AIB's Northern Ireland business, First Trust, is currently up for sale.
It is also seeking to sell its stake in US bank M&T and has agreed to sell its Polish business to Santander.