EU Commission takes UK to court over web privacy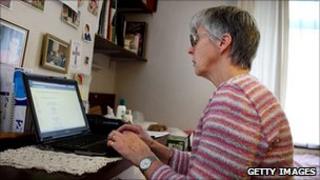 The European Commission is taking the UK to court for failing to comply with EU rules on internet privacy.
The case in the EU's Court of Justice - called an "infringement procedure" - could lead to a fine for the UK if the judges support the Commission's view.
The EU began investigating the UK last year, suspecting that UK law provided insufficient safeguards against illegal interception of internet traffic.
It followed UK citizens' complaints about behavioural advertising.
The Commission says that under EU law the UK ought to have an independent national authority to supervise interception of communications.
The user's consent is required for any interception of e-mails or internet surfing, the Commission says, objecting to the UK's Regulation of Investigatory Powers Act 2000 (RIPA), which allows a person to intercept communications if he or she has "reasonable grounds for believing" that consent has been given.
The Commission says sanctions are required under EU law for any unlawful interception, whether done intentionally or not.
The EU rules define consent as "freely given, specific and informed indication of a person's wishes".
Dispute over ads
The Commission started the legal action following trials of the Phorm ad-serving system on BT's network in 2006 and 2007.
Although the UK government was happy with the way that the trial was run, critics said BT's customers who were unwittingly enrolled in it should have had the chance to opt out.
The Open Rights Group, which campaigns for internet transparency, welcomed the Commission's move on Thursday.
"This is great news; Phorm showed there are big holes in the UK privacy laws. We need an official body to deal with citizens' complaints about illegal commercial interception and enforce our legal privacy rights," said the group's director Jim Killock.
ORG was among the groups that complained about Phorm.
A UK Home Office spokesman said the government was disappointed that the Commission had decided to refer the case to the European Court of Justice.
"We are planning to make changes to address the Commission's concerns and will be setting out more detail on any necessary amendments or legislation in due course," the spokesman said.