Dutch coalition deal involving Wilders takes shape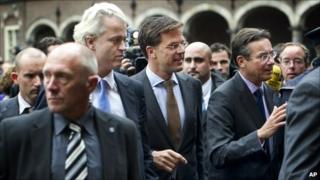 Dutch conservative parties have moved closer to a coalition deal hinging on the support of the anti-Islam party of Geert Wilders.
MPs from the Dutch Liberal Party accepted the deal, which ends months of deadlock, after it was approved by MPs from Mr Wilders' Freedom Party.
The Christian Democrats are due to take a final decision by Saturday.
Mr Wilders said earlier that even if his party did not enter government it would still have "enormous influence".
Under the deal, Dutch Liberal Party (VVD) leader Mark Rutte is set to become prime minister, forming a cabinet with Maxime Verhagen's Christian Democrats (CDA).
With just 52 seats between the two parties in the 150-seat parliament, they propose to form a minority government, which would rely on the Freedom Party's 24 seats to pass legislation by a tiny margin.
Mr Wilders is due to stand trial next week on charges of hate speech for allegedly insulting Islam.
'Not good'
CDA MPs decided after marathon talks on Wednesday to leave the final decision on joining the coalition to a special conference on Saturday.
Mr Verhagen told reporters he was confident an "overwhelming majority" would approve the deal.
Other CDA figures openly questioned the ethics of a deal which relied on the Freedom Party.
The deal would be "not good for the Christian Democrats and also not for the country", said former CDA health minister Ab Klink.
The Netherlands has been run by a caretaker government since February when a coalition led by the CDA's former leader, Jan Peter Balkenende, collapsed after a row over military involvement in Afghanistan.
June's general election delivered a surge of support for the Freedom Party, which won the third biggest share of the seats.
"We may not be a member of the government but we have enormous influence as a support party," Mr Wilders said after coalition talks in The Hague late on Tuesday.