The two sides of the euro coin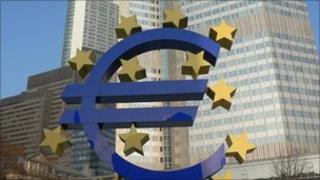 From the pouring rain of Frankfurt to the bright sunshine of Madrid - in economic terms, the weather on my plane journey should have been the other way around.
Germany is booming while Spain is in deep crisis.
They are just a couple of hours' flying time apart but they represent the two extremes of what is currently going on in the eurozone.
The divergence is leading to some tough questions: how do you run the euro when its member-states are so different and what should be done to make them more alike?
This is a tale of two cities, an illustration of the uphill struggle that Europe's single currency, now in its 12th year, is facing.
It is also a story of sacrifice, sometimes made willingly and sometimes unwillingly, to keep the project together.
Frankfurt is Germany's banking centre and it is also home to the European Central Bank, which sets the single interest rate for the eurozone.
People in the German city probably follow the developments of the euro more closely than their fellow Germans. The currency is part of Frankfurt's DNA.
Outside the Central Bank, there is a huge blue and gold euro symbol - tourists pose by it, having their photographs taken by this symbol of European integration.
Just down the road is a famous Frankfurt music store. Cream is packed with guitars, all lining the walls.
The 100-year-old business is a place that pop stars like Andy Summers of The Police often visit when they are playing nearby.
The owner, Bernhard Hahn, makes no bones about his feelings.
He tells me: "I prefer the Deutschmark, Germany's old money, but I've got used to the euro now. It's part of making us Germans good Europeans."
Strumming gently on a guitar is a student, Ben Hermanski. He was a teenager when the euro was born on 1 January 1999. It is all that he has known in his adult life.
He says: "The euro is stable, despite all the crises. I don't think the old Deutschmark would have done any better during the recent recession."
Sense of solidarity
Germans have made big sacrifices, though, to make sure that their economy can flourish in the euro.
They have had to become much more competitive. Many have not had real pay rises in a decade.
The result is that unemployment is lower than it was before the recession and Germany's economy could grow by more than 3% this year.
At Frankfurt airport, rising passenger numbers attest to that. The finance director of Fraport, which runs the airport, admits that success has come at a cost.
"We're just negotiating a five-year wage freeze with our ground handling staff," Matthias Zieschang says.
One of his employees, Georg Kroning, acknowledges that it has been painful for Germans and understands that after his country's sacrifices, it could be hit again.
Germany may now have to pay to bail out those euro member-states which are in trouble, helping them with their huge debts.
Those sacrifices, he says, "will be made out of a sense of European solidarity - Germany has to play its part in ensuring the euro's survival".
Yet I detect he has a sense of irritation that other nations have not been as disciplined as his.
Stopping the spending
Whilst Germans are willingly, if unsmilingly, doing their bit, it is not quite like that in Spain.
The capital Madrid is in the throes of union protests and strikes.
The country is fighting back against the government's plans to cut public sector spending and raise taxes.
Such measures are crucial to bringing down the huge amount of debt that the country is carrying.
Not only are the moves unpopular but they also come after Spaniards have enjoyed a huge financial party which has now turned to bust: they borrowed too much money and gave themselves big pay rises during the good times.
There is no sign yet that they are following the German example. Unwillingly, though, and under pressure, they too are having to adjust their living standards.
Maria Jesus knows that better than anyone. She has had to move into her mother's flat in Madrid along with her three children.
Her company collapsed and she lost her job as an architect. It was her misfortune to work in the construction sector - the part of the economy worst hit.
She has many unpaid bills and, just like Spain, she lacks the cash to clear her debts.
Maria Jesus tells me: "What is happening here is terrible but we can't go on spending money that we haven't got.
"At least, I'm lucky, I've got my mother's help… otherwise, I don't know what we'd do."
'Catastrophe'
Her mother, Aurora, is 72 years old. She says she loves having her daughter and grandchildren around but it is a tight squeeze.
She also tells me that Spain's position is the worst it has been in her lifetime.
"It's a catastrophe and the politicians are acting too late," she says.
Both Maria Jesus and her mother insist, though, that Spain must do whatever is necessary to stay in the euro. They are firm believers in Europe's integration.
If nothing else, most Spaniards and Germans do have that in common.
They share a currency and if they want it to work well, they will have to become more alike.
For Spain, that means cutting costs and debt, living life a little more frugally. It will be painful but, for now, there is no alternative.