Norway terror suspects 'plotted cartoon attacks'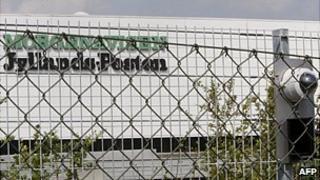 Three men arrested in Norway in July are suspected of planning attacks to avenge cartoons of the Prophet Muhammad that appeared in a Danish newspaper, Norwegian and Danish police say.
Denmark's police intelligence branch said the target might have been either the Jyllands-Posten newspaper itself or people linked to the cartoons.
One of the suspects, an Iraqi Kurd, had confessed, police said.
The 12 drawings sparked furious protests in Muslim countries in 2006.
Islam forbids any depiction of the Prophet.
"One of the suspects was questioned and, from what he said we extracted a confession about terror attack plans," Siv Alfsen, a spokeswoman for Norwegian security police told the AFP news agency.
"Based on his declarations, everything indicates that the target was the Jyllands-Posten newspaper in Denmark."
The other two suspects are immigrants from China and Uzbekistan. All had been granted residency in Norway.
Plot allegations
The cartoons infuriated many Muslims and have inspired several alleged terrorist plots.
Jyllands-Posten newspaper has been forced to introduce heavy security measures.
Earlier this month, a Chechen man was injured in a small explosion at a Copenhagen hotel while allegedly preparing a letter bomb, possibly intended for Jyllands-Posten, Danish police said.
One of the cartoonists, Kurt Westergaard, was the subject of an attempted attack in his home in Denmark in January.
A Somali man was charged with trying to kill him, after entering his home armed with a knife and an axe.
Mr Westergaard had created one of the most inflammatory cartoons published by Jyllands-Posten, depicting Muhammad with a bomb in his turban.
In March, seven Muslim immigrants were arrested in the Irish Republic over an alleged plot to kill a Swedish cartoonist who, in a later incident, depicted the Prophet Muhammad with the body of a dog.