EU wants sanctions to punish budget rebels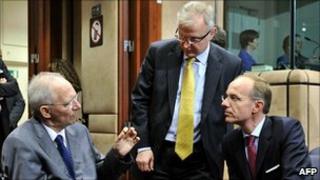 EU finance ministers have backed sanctions for member states that break budget rules, but have not yet agreed on the enforcement mechanism.
The EU aims to make the tougher budget controls law next year. The action was prompted by Greece's budget crisis.
"Sanctions would be introduced at an earlier stage... and rely on a wider spectrum of enforcement measures," an official statement said.
The European Commission will deliver an economic governance plan on Wednesday.
German pressure
The ministers' meeting on Monday was chaired by European Council President Herman Van Rompuy, who has set up his own taskforce to tighten budget scrutiny in the EU.
Germany has spearheaded calls for sanctions to punish states that overshoot the targets for budget deficits and debt.
Mr Van Rompuy said that "whenever possible, decision-making rules on sanctions should be more automatic".
They would be based on a "reverse majority rule, implying a Commission proposal is adopted unless rejected by the Council".
Under the current rules, sanctions can only be imposed if a qualified majority of member states agree to do so. The change would mean sanctions could only be blocked if a majority voted to block them.
Mr Van Rompuy said there was "a very large degree of convergence" on the economic surveillance proposals.
But French Finance Minister Christine Lagarde voiced opposition to automatic sanctions.
"To foresee a completely automatic mechanism, a power totally in the hands of the experts, no. We believe that the political power, the political appreciation should remain fully in the game," she said.
The ministers also appeared to move towards linking member states' economic governance to the question of EU grants - an idea championed by Germany.
"Conditionality for the use of EU funds linked to the fulfilment of the obligations under the Stability and Growth Pact should also be introduced as soon as possible," the statement from Mr Van Rompuy said.
The pact obliges EU states to keep their budget deficits below 3% of gross domestic product (GDP) and their national debt below 60% of GDP.
Greece broke the rules by a wide margin, prompting the EU to provide a huge emergency bail-out in May, but other countries have also flouted the rules, as debts have spiralled in the economic downturn.