Romania interior minister resigns over police strike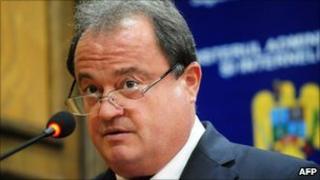 Romanian Interior Minister Vasile Blaga has announced his resignation after last week's strike by thousands of police officers.
Mr Blaga, who called the strike illegal, said he was resigning "as a gesture of honour".
At least 5,000 police marched on Friday to the presidential palace in Bucharest to protest a 25% pay cut.
Romania's government is facing strong opposition to sweeping austerity measures adopted in July.
Mr Blaga said the protesting police had broken their oath of office and dishonoured the interior ministry.
"This morning I have tendered my resignation, as a gesture of honour," Mr Blaga told reporters.
"I respect the policemen's right to demonstrate, but only in a legal framework."
The striking police had shouted slogans outside the presidential palace on Friday, while some threw their caps down in disgust.
President Traian Basescu and and Prime Minister Emil Boc both dismissed their police security escorts on Friday, saying the protest and strike had undermined state authority.
Mr Boc has named Senator Traian Igas, from the governing Liberal Democrat Party, to replace Mr Blaga.
The nomination has been approved by President Basescu.
Mr Blaga's resignation comes as the president attempts to cut government spending. Measures already announced include a 25% pay cuts for all public sector workers and tax rises.
More protests are planned for this week against the cuts.
The government is attempting to reduce the budget deficit to a level agreed last year with the International Monetary Fund and the EU in exchange for a $26bn (£16.4bn) bail-out loan.
Mr Blaga's departure from the interior ministry leaves some doubt as to whether Romania will be able to complete the reforms needed for it to join the visa-free Schengen area as planned in March 2011.
Mr Blaga said this was the major challenge facing Romania after having joined the European Union in 2007.