EU should end return of Roma to Kosovo, says Amnesty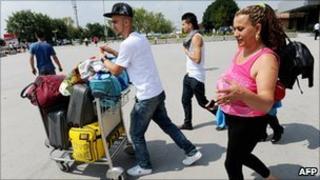 EU countries should end the forcible return of Roma and other minorities to Kosovo, Amnesty International has said.
In a report published Tuesday, Amnesty gives details of how Roma (Gypsies) are returned to Kosovo, "often in the early hours of the morning with nothing but the clothes they are wearing".
Once returned, they face the possibility of continuing discrimination and violence, it says.
In the 1990s, many Roma left Kosovo as war engulfed the ex-Yugoslavia.
Following Kosovo's unilateral declaration of independence in February 2008, the Kosovo authorities have come under increasing pressure from EU member states to accept returnees.
Few receive any assistance when they return to Kosovo, which means that many face problems in obtaining access to education, healthcare, housing and social benefits, Amnesty says in a report entitled No Welcome Anywhere: Stop the Forcible Return of Roma to Kosovo.
Very few Roma are able to find work, with unemployment levels reaching 97%, it says.
Sian Jones, Amnesty International's expert on Kosovo, said EU countries risked violating international law by sending back people to places where they were at risk of persecution or violence.
"The EU should instead continue to provide international protection for Roma and other minorities in Kosovo until they can return there safely," she said.
"The Kosovo authorities must also ensure that Roma and other minorities can return voluntarily and reintegrate fully in society."
'Climate of violence'
Amnesty cites the case of 20-year-old Luli, who was forcibly returned from Germany in April 2010.
He said he was woken up by the police at night and given 10 minutes to get dressed and gather his belongings.
He does not speak Serbian or Albanian, and has only a basic grasp of Romanes.
He is not able to communicate with his older brother, who was forcibly returned to Kosovo several years previously. Luli was two when he left Kosovo.
He was given six months' assistance with the rent of a flat and 350 euros (£298) to buy what he needed. No-one offered him assistance to learn Serbian or Albanian, Amnesty says.
"Despite recent measures introduced by the Kosovo government aiming to improve conditions for reception and reintegration of returnees, the authorities do not have the funding, capacity, resources or political will to ensure a sustainable return for them," Ms Jones said.
"Until the Kosovo authorities are capable of ensuring the fundamental human rights of Roma and other minority communities, they will return to face a climate of violence and discrimination.
"Until then, the international community is obliged to provide them with protection."
The EU justice commissioner's office and the German interior ministry have been contacted for their reaction to the Amnesty report, but had not replied at the time of publication.
The report comes as the treatment of Roma across Europe has come under the spotlight following the expulsion by France of at least 1,200 foreign Roma since July.