Karaoke champion wins one million Russian dumplings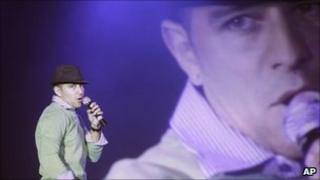 An American telephone engineer has been awarded an unusual culinary prize for his performance at the World Karaoke Championships in Moscow.
Edward Pimentel won one million Russian dumplings after being voted the audience's favourite at the contest.
The organisers said that even if Mr Pimentel ate 100 dumplings a day, the supply should last him 27 years.
The amateur singer will receive a voucher to tuck into free dumplings whenever he fancies them.
Mr Pimentel failed to convince the judges but won over the audience with his versions of rhythm and blues classics.
The winners of the Karaoke World Championship 2010 - both of them Finns - were Sam Moudden in the men's competition and Maria Saarimaa-Ylitalo in the women's contest.