French Riviera train for Russia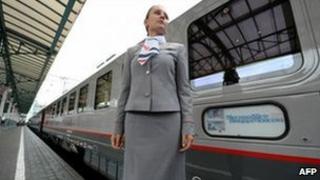 Russia has launched a rail service from Moscow to Nice, in an echo of the days of the tsars, when its nobility holidayed on the French Riviera.
The first train left Moscow's Belorussky Station after an orchestra played French and Russian songs.
Fares for the 53-hour journey start at 306 euros (£261; $409).
Travellers who can afford to pay 1,200 euros have the option of a luxury compartment equipped with a shower and mini-bar, AFP news agency reports.
Russian Railways said it had sold 90% of tickets for the maiden journey.
"Today is a day of celebration," said Mikhail Akulov, the company's vice-president.
"It's a new stage in our partnership with the French railways."
Nice became an established resort for Russian high society after the Russian imperial family built a holiday home there in 1856, AFP notes.
The city has one of the largest Russian Orthodox cathedrals outside Russia as well as a Russian cemetery.