Former EU Commissioners still paid years after leaving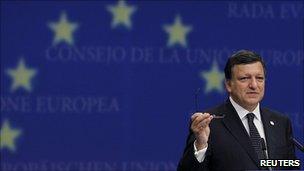 Former European Union commissioners are still being paid thousands of euros a month by the EU up to three years after leaving, it has been revealed.
Sixteen former commissioners are still earning between 40% and 65% of their basic monthly salaries, even though they have found other jobs.
They include two ex-commissioners thought to be receiving 11,000 euros (£9,400; $14,700) per month.
An EU spokesman said the practice "maintained independence".
But a spokesman for the Open Europe think tank, which campaigns for greater transparency within EU institutions, said the rules on such payments "urgently need to be toughened up" and presented a potential conflict of interest.
The EU Commission acts as the cabinet government of the EU. There are 27 Commissioners, including a president and seven vice-presidents.
It is already known that serving commissioners are well-paid, earning a basic salary of about 20,000 euros a month and enjoying other benefits including a generous pension.
But it has now been revealed that they receive "transition payments" for up to three years after leaving the Commission.
These top up their new salaries and are capped so the former officials' total remuneration does not exceed their old salary.
But depending on how long they served, former commissioners can still receive payments of up to 65% of their former salaries - and 16 still do, the European Commission told the BBC.
Two ex-commissioners - Charlie McCreevy (now Ryanair board member) and Joe Borg (a Maltese politician and diplomat who now works for a PR consultancy) - still earn 11,000 euros per month from the EU, reported the newspaper Financial Times Deutschland.
'Maintaining independence'
The European Commission defended the practice.
"The aim of this system is to ease their return to the labour market, to maintain their independence after their time as commissioner," European Commission spokesman Michael Mann told a news briefing, reported Agence France Presse.
But a spokesman for Open Europe was sharply critical of the practice.
"The EU's current rules on former Commissioners urgently need to be toughened up," Stephen Booth told the BBC.
"Ex-officials are being allowed to take up well paid positions in the private sector or in national governments while still receiving huge EU payoffs, paid for by the taxpayer."
He also pointed out that potential conflicts of interest can arise when former commissioners continue to receive salaries from the Commission despite taking new government jobs.
Among the 16 ex-commissioners still receiving salaries are the Italian Foreign Minister Franco Frattini and the Lithuanian President Dalia Grybauskaite.
"How can citizens expect these people to take an objective view on EU policy when they are still receiving payments from the European Commission?" Mr Booth said.
And the revelation of these massive payments is unlikely to prove popular with many Europeans facing rising unemployment, spending cuts and higher taxes, says the BBC's Jonty Bloom in Brussels.
Related Internet Links
The BBC is not responsible for the content of external sites.