Extremist websites skyrocketing, says Interpol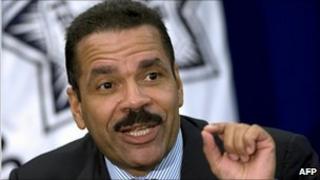 The sharp growth in extremist websites is making recruitment much easier for al-Qaeda, according to Interpol head Ronald Noble.
"The threat is global, it is virtual and it is on our doorsteps," he said.
Mr Noble told a conference of police chiefs in Paris there were 12 sites in 1998 and 4,500 by 2006.
He said tackling radicalisation had been made far harder by the internet because many of the activities involved were not criminal.
Increasingly, he said, the individuals targeted were young and vulnerable and from middle-class backgrounds.
A researcher at the London-based International Centre for the Study of Radicalisation told the BBC that the number of radical websites was now far higher than the figure given by Interpol.
"It's well into the thousands in English alone," said Alexander Meleagrou-Hitchens.
He added that governments had found the increase in radical websites impossible to stop.
"As soon as you knock out one, another pops up. It's like playing 'whack-a-mole'."
Last week, the head of British security service MI5, Jonathan Evans, expressed concern about the influence of Yemen-based radical Muslim cleric, Anwar al-Awlaki, whose sermons feature in more than 5,000 videos on YouTube.
Mr Awlaki has been linked to the deaths of 13 people at Fort Hood military base in the United States in November 2009 and the attempted bombing of a passenger jet as it flew to Detroit the following month.