Holocaust denier Irving in Poland for Hitler tour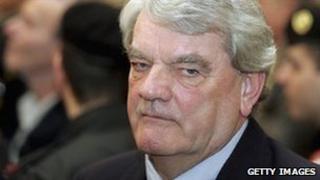 British Holocaust denier David Irving has arrived in Poland to lead a tour of sites from the Nazi occupation.
Confirming his arrival by phone, he said he could give no details of his plans for security reasons.
His tour brochure offers a visit to the former Wolf's Lair site where "German army traitors" tried to assassinate Adolf Hitler in 1944.
A Polish group is trying to sue Irving for Holocaust denial, based on one of his books published recently in Polish.
Otwarta Rzeczpospolita (Open Republic) brought a legal action in Warsaw over the 1977 book Hitler's War.
Among the book's claims is the suggestion that Hitler knew nothing of the Holocaust until late 1943, and that he never gave the order for the annihilation of Europe's Jews.
'Real history experts'
"I am now in Warsaw and I am not at liberty to discuss my itinerary as I am sure you understand for security reasons," Irving told AFP news agency on Tuesday by telephone.
"I will be in Poland for the next nine days."
Polish and British anti-racism groups have urged their governments to stop Irving taking his tour party to Treblinka, the former Nazi death camp where more than 800,000 people, mostly Jews, were murdered.
Treblinka is advertised in the tour brochure as an "optional tour of... a real 'death camp'".
But the tour's chief attraction is the Wolf's Lair - "Let David Irving take you round Hitler's secret headquarters," the leaflet says - while the former base of SS commander Heinrich Himmler is another stop.
Also promised are "lectures by real history experts".
Irving was described as "a racist, an anti-Semite and an active Holocaust denier" by a British judge in 2000 after losing a libel case he had brought against American author Deborah Lipstadt and her publisher Penguin Books.
He was also found guilty of denying the Holocaust by Austria in 2006.