Europe agrees plan to avoid gas shortages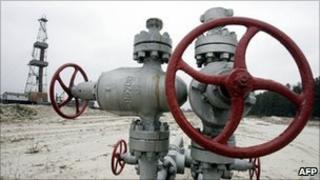 The European Parliament has approved proposals to improve co-ordination between European Union member countries if they face sudden gas shortages.
Supplies to thousands of homes and businesses across the EU were cut last year due to a payment dispute between Russia and Ukraine.
National governments are due to approve the bill by the end of the year.
It is part of Europe's attempts to improve the way it deals with future gas crises.
The proposals voted through by the European Parliament provide stricter guarantees that gas companies will not be able to cut supplies to households in case of extreme temperatures or severe disruption.
'Political tool'
National governments will have three years to put in place new cross-border interconnections to enable countries to redirect gas to each other.
These new rules, said Polish MEP Konrad Szymanski, must signal the end of indifference by national governments and companies to the use of gas as a political tool, particularly by Russia.
Moscow supplies a quarter of Europe's gas consumption, mainly through Ukrainian pipelines.
In January last year, millions of Europeans were left shivering while Russia argued with Ukraine over the price of gas.
But that was only one in a series of gas crises.
In June, Poland and Lithuania saw their gas deliveries dip by as much as 50% because of a similar dispute between Russia and Belarus.