France raises anti-terror security after tip-offs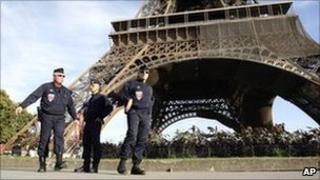 France is on heightened alert for possible terror attacks after intelligence suggested public places could be targeted, officials have said.
The officials, who spoke anonymously, said one tip-off suggested a female suicide bomber was planning to attack the transport system.
Without confirming the reports, Interior Minister Brice Hortefeux said "the terrorism threat is real".
He said the alert level was unchanged at "red" - the second-highest.
But speaking on Monday, Mr Hortefeux added: "As of today we have enhanced our vigilance."
The minister did not provide details of specific threats or security measures taken by the authorities.
He was speaking after French police and counter-terrorism officials, who were speaking on condition of anonymity, said the authorities had received intelligence about a possible suicide bombing by a woman.
The officials appeared to have confirmed earlier reports by France's RTL radio that the authorities had been informed about the threat last week.
RTL said the alert came from French and North African sources.
French authorities have recently visibly beefed up police patrols at landmarks around the country.
Last week, some 2,000 people were evacuated after a false bomb alert at the Eiffel Tower in Paris.