Protests against Swedish far-right election gains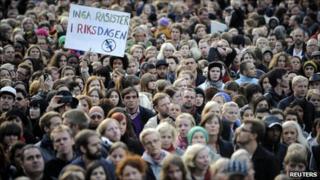 Thousands of people have staged a protest in Sweden's capital, Stockholm, against the election to parliament of 20 members of a far-right party.
They waved banners and shouted slogans criticising the Sweden Democrats, who oppose immigration and have been accused of racism and intolerance.
Its 5.7% of the vote came at the expense of the centre-right Alliance of Prime Minister Fredrik Reinfeldt.
He has said he will seek the support of the Green Party for his new government.
The Green Party are allied with the centre-left Social Democrats. The Greens' co-chairwoman, Maria Wetterstrand, earlier said the opposition bloc - which won 157 of the 349 seats in parliament - was united.
'Challenges'
A crowd of 6,000 protesters, according to local police, took part in the demonstration in Stockholm on Monday, shouting "No to racism!"
There was another, smaller demonstration in Gothenburg.
The BBC's Damien McGuinness in Stockholm says the protests started within hours of the news that the Sweden Democrats, had won 20 seats in national elections.
On Monday morning, a few hundred people gathered in front of government buildings in the city to express their disgust that what they describe as a racist political party now sits in parliament, our correspondent says.
By the evening, thousands had joined them, filling entire blocks of the city centre, he adds.
"It is very important to show that the big majority of the Swedish population is against the right-wing extremists like the Sweden Democrats," one of the participants, Per Branevig, told the AFP news agency.
Reports say the spontaneous demonstration was organised mainly through social networking sites such as Facebook and by word of mouth.
Earlier, Prime Minister Reinfeldt said he would turn to the Green Party to help counter the Sweden Democrats' influence, and that he had time to form a coalition government before parliament opens on 4 October.
Mr Reinfeldt's Alliance won 49.3% of the vote in Sunday's election, the first non-left-wing government to re-elected in nearly a century.
But with 172 seats, he fell short of a majority in the 349-seat parliament.
"We have obviously had a lot of questions on how this electoral result would be managed," Mr Reinfeldt told reporters. "There is no need to use words like chaos."
"My intention is to use the upcoming period to work through the challenges for Sweden. A clear presentation of the government needs to be made available by the beginning of October," he added.
The Sweden Democrats appear to have tapped into voter dissatisfaction over immigration, says our correspondent, with the result undermining the image of Sweden as a tolerant and open-minded country.
Mr Reinfeldt could remain in office with a minority government - which, although not that unusual in Sweden, would mean he would have to win over other parties to push through bills.