Can Moscow Mayor Yuri Luzhkov survive Kremlin attacks?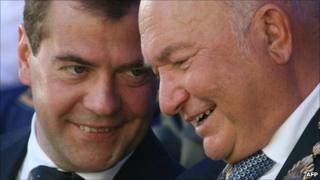 If the mayor of Moscow is in any doubt that he's fallen foul of the Kremlin, all he needs to do is switch on Russian TV.
For the past two weeks, the main state-controlled channels have been broadcasting a stream of documentaries and news reports slamming Yuri Luzhkov.
They have blamed him for gridlock on the Moscow roads, criticised him for the bulldozing of historic buildings, and accused him and his billionaire wife of corruption.
Mr Luzhkov has denounced all the claims as "total rubbish", designed to make him "lose his balance". He has threatened to sue the channels concerned.
So who is behind this orchestrated attack on the airwaves?
'Oil wells'
"I am sure there are a lot of highly placed officials who would like to dismiss Luzhkov," says Boris Notkin, a Moscow journalist.
"They don't like the fact that a huge financial and economic resource like Moscow is completely controlled by Luzhkov's team.
"Moscow generates a lot of money - it is like oil wells. And when Luzhkov has complete control over these 'wells' and many federal bureaucrats have no access, they are annoyed, to put it mildly."
Mr Luzhkov's biggest problem, though, isn't bureaucrats: it's the president.
Dmitry Medvedev has already fired a number of long-serving regional leaders. And now he is believed to be gunning for Yuri Luzhkov too, hence the concerted media campaign.
President Medvedev has the right to remove the mayor at any moment. But the situation is more complicated. Mayor Luzhkov is one of the most powerful politicians in Russia.
Not only has he been Moscow mayor for the last 18 years, he is also one of the top figures in the party of power, United Russia.
Before the emergence of Vladimir Putin, a decade ago, Mr Luzhkov was even tipped by some as a possible future president of Russia. And, despite the daily traffic jams in the capital and the allegations of corruption, he remains a popular mayor.
What's more, it is unclear how much power Mr Medvedev has. Most Russians view Prime Minister Putin as the more influential figure - and there is speculation that the Kremlin would need his permission before sacking the mayor.
If Mr Luzhkov is fired, then President Medvedev would look strong. If the mayor stays, the Kremlin looks weak. That would deal a blow to Mr Medvedev and any hopes he may have of a second presidential term.
"For the Kremlin, someone needs to kill Luzhkov politically," believes broadcaster Sergei Dorenko.
"President Medvedev has to do something to show he is the chief. He must. If not, Medvedev will be isolated by the bureaucracy. He will be 'zero' for the bureaucracy.
"Medvedev has to act. And each hour of not acting is a problem for him."
And what about Mr Putin, the man who propelled Dmitry Medvedev to the presidency? So far, he has remained silent on the troubles of the Moscow mayor.
"The question now is, what is the position of Mr Putin?" believes Mikhail Fishman, the editor of Russian Newsweek.
"What is important is that Medvedev is Putin's own project. Medvedev is his partner. And just to cancel this partnership is not what we expect from him.
"So my bet would be that he takes Medvedev's side, finally. That means Luzhkov will leave quite soon."
This is a key moment in Dmitry Medvedev's presidency. As for Yuri Luzhkov, perhaps he won't be tuning in to Russian TV right now.
The mayor is not in Moscow this week - he has taken leave and gone on holiday to Austria.
But he won't be alone. Russian TV crews are chasing him there.