Swedish voters react to far-right gains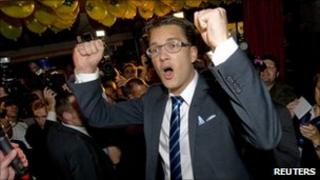 A far-right anti-immigration party in Sweden has won seats in parliament for the first time, denying the governing centre-right coalition an overall majority.
The Sweden Democrats won 20 of the 349 seats in the country's assembly in Sunday's general election.
Here, voters in Sweden react to the results and debate the significance of the Sweden Democrats' gains.
Linda, Norrkoping
I'm sad to see the Sweden Democrats in parliament, but I'm not altogether surprised.
A lot of voters are dissatisfied with Sweden's immigration policy but the Sweden Democrats are the only party to address it.
None of the other parties addressed it properly, for fear of being labelled as racist. You can get that label very easily in the Swedish media.
Because no one has argued against the Sweden Democrats, I think that many of their supporters don't actually realise what they are voting for.
Nobody has pointed out exactly what would happen if their policies were implemented.
It would have been better to talk openly about the problems that have caused the Sweden Democrats to get seats in Parliament, rather than ignoring them.
I'm happy that the current government were re-elected because they have handled the economic crisis very well overall.
But I think we have seen a shift in Swedish politics and I would not be surprised if the Swedish Democrats got more votes next time.
Tayeb Husain, Lund
The Sweden Democrats' entry into the national parliament is deeply worrying for any sensible Swede.
As an immigrant, originally from Bangladesh, I hope this does not represent a shift in Swedish politics, but I don't think it will in the long-term.
Their political ideology is based on the sole issue of immigration, an issue their party members appear to hardly understand.
But there is also some truth to what they say.
Swedish immigration policy lacks a clear-cut direction and often is very detrimental to new immigrants, who it is supposed to help.
The other parties did not handle the issue correctly in this election.
But Sweden is an egalitarian society and this far-right group have no chance of survival in the long run if the conservative government under the leadership of Mr Reinfeldt is careful in treating the issue with prudence, on which this ultra conservative party thrives on.
Markus Johansson, currently in Finland
I voted for Sweden Democrats and I am not surprised they won. Other parties have utterly failed to bring up the question of integration of immigrants into Swedish society. The Sweden Democrats is the only party that has addressed the issue.
None of our previous governments has been able to deal with the problems of immigration in an acceptable way. It's not just about the numbers of immigrants we welcome, it's about what we do to integrate them.
Many of them don't speak the language and live in a segregated way.
I've had several encounters with non-European immigrants and this is the main reason why I moved out of the country.
When you express your views you are called a Nazi, a racist, you are not politically correct, you are seen as a bad human being.
I no longer felt safe expressing my thoughts on this subject. It was so common to slander those who think differently, it became unbearable for me to continue living in Sweden.
I am mostly moderate in my politics and have voted for moderate parties all my life until now.
I hope this outcome will make the immigration issue more visible - it will invite other parties to talk about it and do something about the issues immigration brings."
Susanne Lindeskog, Malmo
I live in Malmo, where a large percentage of the population comes from other parts of the world. It is frightening that as much as eight percent or Swedish voters have chosen to vote for a party with racist roots.
I feel ashamed to be Swedish. There's been a polarisation in the immigration debate, it's become more common to separate different groups, you don't talk about one society, but about this part of the other - the Swedes and the immigrants.
Ours is a very segregated city, in some parts you don't see Swedish people at all and you don't hear Swedish language.
Many people try to find simple solutions and it's just really to use the issue of immigration as a scapegoat for our troubles. Other countries have dismantled their welfare state step by step and I think we are on the path of doing the same.
I think it's very much about welfare. Many people are struggling at the moment and feel threatened by immigration. One must remember that Sweden has been a very homogenous society for a long time.
If the alliance starts working with the Swedish Democrats, Sweden will become very similar to Denmark, where the attitude towards immigrants is quite rough.
I don't want that to happen to Sweden but I feel that we are no longer the tolerant country we once were. The tone of all our political parties has become more fierce when it comes to immigration.
I voted for the Liberal Party. I want Sweden to be a country where there's room for everyone.