Polish court frees Chechen separatist leader Zakayev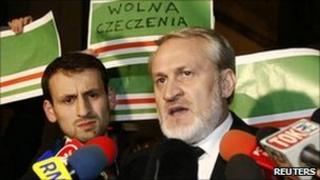 A Polish court has released exiled Chechen separatist leader Akhmed Zakayev, who is wanted in Russia on terrorism charges.
He had been detained earlier in the day on an international warrant issued by Russia, which wants him extradited.
The court said Mr Zakayev, 51, was being released from custody pending a decision on his extradition.
He went to Warsaw to attend a two-day Chechen congress. He denies allegations of involvement in terrorism.
Moscow's warning
In its ruling late on Friday, the court said it had taken into consideration the fact that in 2003 Mr Zakayev was granted political asylum in Britain, where he is based.
The court said that it was "clear that a decision by any member state has the same effect across the entire European Union", Poland's PAP news agency reports.
Mr Zakayev later hailed the court's decision.
"Poland respects democratic values," he told Poland's TVN24 television, as he was leaving the courthouse.
Earlier on Friday, a Polish police spokesman said Warsaw had had no choice but to detain Mr Zakayev because Interpol had put him on its most-wanted list, at Russia's request.
"Because there was an international arrest warrant, police were under an obligation to detain him and to take him to prosecutors," spokesman Mariusz Sokolowski said.
Speaking on Thursday, Polish Prime Minister Donald Tusk said that if the Chechen separatist leader were to be arrested, the courts might not agree to extradite him to Russia.
"The extradition procedure isn't the same as extradition," he told Polish media.
Polish Finance Minister Jan Rostowski said that even if the courts did grant extradition, the government could still intervene.
In Moscow, the head of the Duma's (lower parliament) international affairs committee, Konstantin Kosachev, warned that any failure by Poland to act in accordance with international law would create problems.
Russia's Prosecutor General pledged that Mr Zakayev would get a fair hearing if handed over.
'Apostate'
Mr Zakayev had been due to attend the congress of Chechens in Pultusk, about 60km (40 miles) north of Warsaw. In exile, he has travelled frequently in Europe, including to Poland.
Mr Zakayev is seen as a leader of the moderate wing of the Chechen separatist movement.
He has served as a representative of the Chechen government in exile in the West since it was ousted by Russian military action in 2000.
Poland has been among the fiercest critics of Russian policy in Chechnya, although relations have warmed since the death of President Lech Kaczynski and other senior officials in an air disaster earlier this year.
Akhmed Zakayev's position as leader has been called into question by other Chechen separatists.
Earlier this year, he called for negotiations with Russia, describing Chechen independence as "not an end in itself".
A sharia court formed by the separatist warlord and self-proclaimed emir of the "Caucasus Emirate", Doku Umarov, declared him an apostate last year and sentenced him to death.