Germany denies French claim over Roma camps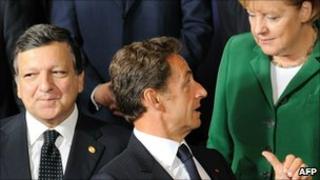 Germany says a claim by French President Nicolas Sarkozy that it would clear illegal Roma camps was based on a "misunderstanding".
German Foreign Minister Guido Westerwelle denied the claim by Mr Sarkozy, who had earlier had a row with the European Commission over French deportations of Roma (Gypsies).
But Germany is returning thousands of Roma refugees - many of them children - to Kosovo. They are not EU citizens.
The Roma issue dominated an EU summit.
Since August, France has dismantled about 200 Roma settlements and deported about 1,000 of their inhabitants to Romania and Bulgaria. It has also evicted French nationals from illegal traveller settlements.
France has been accused of violating EU rules on human rights, by allegedly targeting an ethnic group.
Mr Sarkozy said German Chancellor Angela Merkel had told him that Germany would also clear Roma camps, and he added: "We'll see how calm German politics will become then."
The BBC's Oana Lungescu in Brussels says that privately German diplomats dismiss as pure invention Mr Sarkozy's claim that Germany is prepared to follow France's example.
Franco-German rift
Yet the issue of Roma expulsions touches a raw nerve in Germany, our correspondent says.
Under a deal agreed in April, 14,000 refugees are to be returned to Kosovo - 10,000 of them Roma.
The UN children's agency Unicef warned that half of the Roma to be deported are children, most of whom were born and raised in Germany. But unlike the Roma that France is expelling to Romania and Bulgaria, they do not enjoy the right to return, because they are not EU citizens.
Most of the Roma in Germany live in homes and hostels, not in camps.
Mr Sarkozy vowed that France would not tolerate illegal camps, which he warned could develop into shanty towns, and that France would continue to dismantle them. He claimed he enjoyed the support of all the other EU leaders at the summit.
He angrily rejected recent remarks by the EU Justice Commissioner, Viviane Reding, in which she appeared to compare France's actions to persecutions in Nazi-occupied France. She also threatened legal action against France.
Our correspondent says Mr Sarkozy has once again strained relations with Germany, his most powerful partner in Europe.
Most recently they were at odds over how the EU should deal with the economic and financial crisis.
Ms Merkel, a physicist turned prudent politician, has never warmed to Mr Sarkozy, our correspondent says.
Although France has deported thousands of Romanian and Bulgarian Roma over the past few years, it began accelerating the process last month, as part of a high-profile crackdown on illegal camps in the country.
Mr Sarkozy said it was a law and order issue, linking the camps to prostitution, child exploitation and human trafficking.