Judge tells man to climb holy mountain Croagh Patrick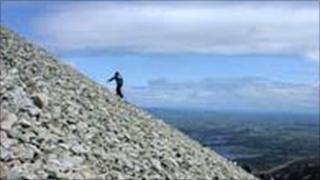 A County Donegal judge has ordered a man who swore at a policeman to climb up Ireland's holiest mountain.
Milford District Court heard Joseph McElwee, 38, of Aughavennan, Rathmullan, was one of three people who approached two officers outside a pub.
The court heard the tirade of abuse included foul language when he told a garda to go back to Mayo.
Judge Seamus Hughes asked him if he had ever climbed Croagh Patrick in the officer's native County Mayo.
Prayers
"I want you to come back in a month's time with evidence that you did the four stations of Croagh Patrick, and say a few prayers," he said.
"You then might have a different impression of County Mayo and its people, and it will be in recognition to your fellow Irish people especially those in the line of duty."
Mr McElwee's solicitor told the court drink was behind the actions of his client, who had personally apologised to the officer.
He said the public gallery were finding the pilgrimage remarks funny but he assured the judge they were taking it seriously.
He asked the judge how Mr McElwee would be able to prove he had climbed Croagh Patrick.
Mr McElwee is due to appear in court again next month, and the judge warned he would have questions prepared.
"You better have the answers, and I will know whether you are telling the truth or not," he said.