Book says Carla Bruni used police files to uncover plot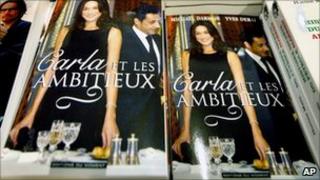 A biography of Carla Bruni claims she used police and secret service files to find out who was spreading rumours about the state of her marriage.
According to the book, France's first lady obtained lists of telephone calls and texts made by those she suspected of plotting against her.
Her husband, President Nicolas Sarkozy, is already fighting claims that his office spied on newspaper Le Monde.
The paper says intelligence services were used to identify a source.
The new book, Carla and The Ambitious, suggests that the alleged plot arose from a number of meetings that took place involving former Justice Minister Rachida Dati and a woman who was previously Mr Sarkozy's sister-in-law.
Their aim, it is claimed, was to oust Ms Bruni from the Elysee Palace and bring the president's ex-wife, Cecilia, back to France.
The book says the first lady telephoned Cecilia as soon as she became aware of the plot.
Former star
Our correspondent in Paris says Ms Dati was a former star in the cabinet but fell out of favour soon after President Sarkozy married Ms Bruni.
The book says Ms Dati, who is now a member of the European parliament, was prepared to "stop at nothing to return to the dizzy heights" of government.
In April, when it was reported that Ms Dati was behind the rumours of the president's marital problems, Carla Bruni came to her defence.
"The accusation that Rachida Dati was behind these rumours is a rumour and I don't believe rumours. Rachida Dati absolutely remains our friend," she told French radio.
The revelation that the presidential couple used secret services to investigate rumours about their marriage could hardly have come at a worse time for Mr Sarkozy, our correspondent says.
Le Monde claims his office ordered intelligence services to identify the source of leaks in the paper's coverage of the Liliane Bettencourt financial scandal.
Earlier this month, police searched the main offices of President Sarkozy's political party as part of an inquiry into claims that the L'Oreal heiress had made illegal donations to his presidential campaign.
Another biography, Carla: A Secret Life, also appeared in French bookshops this week.