Chechen separatist Akhmed Zakayev arrives in Poland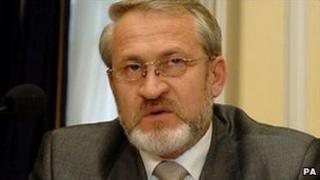 Chechen separatist leader Akhmed Zakayev has arrived in Poland in defiance of a warning that he faces arrest on a Russian warrant.
Mr Zakayev is due to attend a two-day Chechen congress being held in the town of Pultusk.
A close aide said Mr Zakayev would report to prosecutors in Warsaw to clarify why he is being sought.
Prosecutors said they would be obliged to arrest Mr Zakayev on the basis of the warrant issued through Interpol.
Mr Zakayev, who has been living in the UK since receiving political asylum in 2003, said on the eve of the congress that he had received his Polish visa and meant to attend the event.
Russia regards him as a terrorist, charging him with armed rebellion, murder and kidnapping, dating back to the 1994 and 1999 wars between Moscow and Chechen separatists.
Mr Zakayev's representative, Adam Borowski, told the Polish news agency PAP that the exiled leader did not want to "hide or cause problems for Poland".
"He will present himself tomorrow morning [Friday] at 8am [0600GMT] at the prosecutor's office with friends and a lawyer to ask why he is being sought," he said.
Earlier, congress organiser Deni Teps told reporters that Mr Zakayev "is in Warsaw, is staying in a hotel, and I think he will come to the congress tomorrow morning".
'Obligation to detain'
Poland has been among the fiercest critics of Russian policy in Chechnya but relations between Warsaw and Moscow improved this year after Russia's sensitive handling of the Polish air disaster on its territory, which killed President Lech Kaczynski and other top officials.
Russian President Dmitry Medvedev is due to visit Poland before the end of this year, at the invitation of the new Polish President, Bronislaw Komorowski.
On Wednesday, Mateusz Martyniuk, spokesman for Poland's chief prosecutor, said the country had an obligation to detain Mr Zakayev if he entered its territory.
"If Mr Zakayev comes to Poland, even though he is not wanted by our country, the police still have the obligation to detain him and bring him before public prosecutors and a court that will rule on his eventual extradition," he told AFP news agency.
The Chechen congress is expected by its organisers to attract about 200 delegates from the Chechen diaspora.
Mr Zakayev has served as a representative of the Chechen government in exile in the West since it was ousted by Russian military action in 2000.