Keeping Turkey focused on EU challenge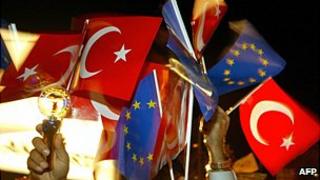 It has been five years since Turkey began formal negotiations for membership of the European Union.
But a process which was the cause for jubilation in Turkey at the time has become bogged down. It had been a central platform in the campaign of the governing Justice and Development Party (AK Party) when it won its first general election in 2002. Today, politicians rarely mention it.
Turkey has to complete a total of 33 chapters of negotiations to bring all its laws into compliance with the body of EU law known as the acquis communautaire.
To date only 13 chapters have been opened, and only one, on science and research, completed. Nineteen have been frozen, over the issue of Cyprus, or due to other objections by EU members.
The position of France and Germany - that Turkey should not get full membership even if it does fulfil all the criteria - has killed public enthusiasm for the EU in Turkey. Its long journey to the gates of Europe has slowed to a crawl.
Food revolution
But behind the stalemate, a lot is still happening. The EU is already starting to change the Turkish economy and society.
"People don't see all those civil servants who are travelling between Ankara and Brussels," says Joost Langendijk, a former Dutch MEP who now works as a policy advisor on the EU at Sabanci University in Istanbul.
"But they are. A lot of laws have to be changed. And a lot of changes to the Turkish constitution, to human rights laws, to freedom of speech laws, have already been adopted and implemented."
This year Turkey opened the chapter on food safety and veterinary policy. This involves adapting the entire food production system to EU standards. For a country where agriculture still employs one third of the workforce, that is a big job.
Just outside the town of Kesan, close to the Greek border, farmers are already discussing the likely impact. They don't know much about it; no one has been to talk to them yet. But they have watched with envy the support their colleagues over the border get from Brussels.
"Once we become an EU member our products can travel to Europe to be sold," says one.
"Right now we can only sell locally. Also, say I only have two cows - with EU help I could have 10."
They are quickly brought down to Earth by Hasan Karagoz, head of the local farmers' union.
"We won't get full membership," he says, "so you won't be able to travel freely, and you'll only get 10% of the subsidies European farmers get. And they'll flood our market with their goods."
"We're already suffering," says another farmer. "The future can only be brighter in the EU. Think of our children."
Like most Turkish farmers, these are small-scale producers - what the EU calls micro-farmers. They have just a few cows; they have to use a communal milking machine donated by a French multi-national dairy company.
Small farmers 'wiped out'
And, says Ozgur Bozcaga, a researcher at the Economic Development Foundation, they will probably become casualties of the EU harmonisation process.
"The micro-producers, who have less than 10 animals, who produce on 10 acres or less, will be wiped out," he says.
"So the government must encourage them to get out of the business with the minimum levels of loss, or there will be a social earthquake."
It is the job of Egemen Bagis, the minister for EU affairs, to sell the harmonisation process to the Turkish public.
"Some jobs may be eliminated because of the rules," he says, "but there are also many jobs being created. For example the food safety law made it a requirement to employ a vet in every farm that has more than a certain amount of animals.
"We had to place more than 18m computer chips in the animals' ears to help us follow the animal movements. We will employ many people in these areas."
'De-motivating'
One of the toughest chapters is environment. Most candidate countries leave that one to the end of their negotiations. But because so many of Turkey's other chapters are frozen, it has had to open the environment chapter early.
Keram Okumus is the deputy director of the Regional Environment Center, an EU-backed organisation which has been given the job of working out how much raising Turkey's environmental regulation to the level of the EU's will cost.
His estimate is 100bn euros (£83bn), of which the business sector will have to pay one third.
"It's really hard to sell the issue to business when you look from a cost perspective," he says.
"So that's why we are looking at to make a business case out of the EU accession, how they can be much more energy efficient, and how they can use raw materials more efficiently".
Already the local authorities are working to improve areas like waste disposal. All have departments and personnel dedicated to reaching EU standards - the environment ministry has employed 1,000 extra people, primarily to work on the EU accession standards.
But as they do this they are confronting other issues, like what to do with Roma communities who make a living from informal recycling on the old-style refuse dumps that are being phased out.
The biggest challenge, though, say all those working on Turkey's EU bid, is having no certainty of membership in the end.
"It's very de-motivating", says Keram Okumus. "Businesses and local governments ask us 'Why are we negotiating if we don't know whether we will ever be accepted?'."
That de-motivation is one reason the accession process has slowed down so much. The two remaining chapters that can still be opened are on procurement and social policy. Both will involve some very tough and costly decisions by government and business to meet EU requirements.
The governing AKP has promised to inject new urgency into the accession negotiations when the Turkish parliament re-opens next month, and make passing EU-related laws a priority.
But it also has an election to fight some time next year - and the EU is no longer a vote-winner.