Small Basque bomb explodes despite Eta ceasefire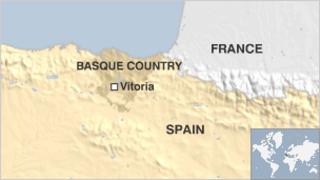 A small improvised bomb has shattered windows and damaged windows in a Basque town in Spain 11 days after Eta militants declare a ceasefire.
The device went off in an industrial zone of Vitoria at 0125 (2325 GMT), police said, and there were no reports of any injuries.
Police speaking to AFP news agency blamed the attack on Eta sympathisers.
Eta's campaign for a separate Basque state has led to more than 820 deaths over the past 40 years.
The police spokesman, speaking to AFP, said the attack appeared to have been a case of "kale borroka", a Basque term used to describe minor acts of urban violence carried out by radical young separatists close to Eta.
The bomb was made from a camping gas container, an aerosol can, inflammable liquid and a fuse taken from a firework, he added.
Eta's ceasefire, announced on 5 September, was immediately rejected by Madrid as not enough.
On Tuesday, police in northern Spain swooped on suspected leaders of Ekin, an Eta support group, and made nine arrests.