German father on trial over son's deadly shooting spree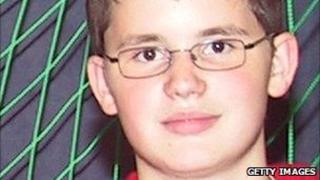 The father of a German teenager who went on a shooting spree last year, killing 15 people, has gone on trial.
Joerg Kretschmer is accused of violating gun laws, leading to his son Tim, 17, taking a pistol and going on the rampage at his former school near Stuttgart, before killing himself.
Mr Kretschmer is accused of failing to keep his 9mm Beretta pistol secure.
The trial is expected to last 27 days. If convicted, Mr Kretschmer faces a fine or a prison sentence.
Tim Kretschmer used his father's legally registered pistol to kill eight schoolgirls, a schoolboy and three teachers at Albertville secondary school in Winnenden on 11 March 2009.
He killed three more people after fleeing the school, before shooting himself as police closed in on him.
Joerg Kretschmer had legally kept more than a dozen weapons in his house.
Prosecutors said he had "negligently made possible the actions of his son in that he stored the weapons... in such a way that Tim could get his hands on a gun and a large amount of ammunition".
Mr Kretschmer had initially been charged with manslaughter and grievous bodily harm, but a court ruled that these more serious charges could only be considered if his actions had directly caused the massacre.
The court says some 41 relatives of victims of the attack have joined the trial as co-plaintiffs, as allowed under German law.