France faces showdown on Roma at European Union summit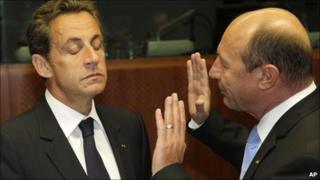 A row over France's crackdown on Roma (Gypsy) migrants from Romania and Bulgaria looks set to dominate a summit of EU leaders in Brussels.
President Nicolas Sarkozy was furious after European Justice Commissioner Viviane Reding appeared to compare France's removal of Roma with Gypsy deportations during World War II.
Ms Reding later said she regretted interpretations of her statement.
EU leaders are due to discuss ways to prevent a new financial crisis.
Also on the agenda are plans to co-ordinate their approach towards emerging powers like China and India.
'Unsuitable comparison'
Although France has deported thousands of Romanian and Bulgarian Roma over the past few years, it began accelerating the process last month, as part of a high-profile crackdown on illegal camps in the country.
On Tuesday, Ms Reding seemed to compare France's actions to the persecution of Jews and Gypsies in Nazi-occupied France, when she said: "This is a situation I had thought Europe would not have to witness again after the Second World War."
She also urged the European Commission to take legal action against France over the deportations.
Last week Euro MPs accused the commission of failing to protect the Roma deported from France.
The EU summit on Thursday is not meant to be about the Roma, but Mr Sarkozy seems determined to go on the offensive in Brussels to defend France's reputation as the home of human rights, says the BBC's Oana Lungescu in Brussels.
Mr Sarkozy was said to be scandalised by Ms Reding's criticism, mockingly suggesting the Roma should go to her country, Luxembourg.
With tension rising to an unprecedented level, European Commission President Jose Manuel Barroso on Wednesday distanced himself from Ms Reding's comparison with World War II deportations.
He said Ms Reding had his full support, but "one or other of the expressions used in the heat of the moment may have given rise to misunderstandings".
"Vice-President Reding did not want to establish any parallelism between what happened in the Second World War and the present," he said.
France's Europe Minister Pierre Lellouche said Ms Reding's comments were "not appropriate".
"A plane ticket back to the European Union country of origin is not the same thing as death trains and the gas chambers," he said.
Italy's Prime Minister Silvio Berlusconi said she should have raised her concerns in private, and German Chancellor Angela Merkel said she found "the tone and especially the historical comparisons unsuitable".
France says its policy respects EU laws. It denies that the expulsions target an ethnic group, saying they are done on a case-by-case basis. It also insists that most of them are voluntary.
Many of those deported are offered cash payments of about 330 euros ($423, £274) per adult and 100 euros per child.