Polish arrest warning for top Chechen rebel Zakayev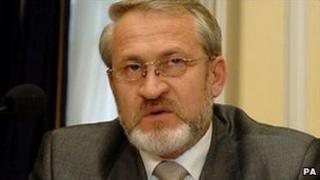 Leading Chechen rebel Akhmed Zakayev has been warned by Poland that he faces arrest on a Russian warrant if he visits the country this week.
Mr Zakayev, who has been living in the UK since receiving political asylum in 2003, says he means to attend a Chechen congress opening in Poland on Thursday.
Russia regards him as a terrorist and has an international warrant lodged against him through Interpol.
Poland has been among the fiercest critics of Russian policy in Chechnya.
But relations between Warsaw and Moscow improved this year after Russia's sensitive handling of the Polish air disaster on its territory, which killed President Lech Kaczynski and other top officials.
Russian President Dmitry Medvedev is due to visit Poland before the end of this year, at the invitation of the new Polish President, Bronislaw Komorowski.
'Obligation to detain'
"Mr Zakayev is the object of an international arrest warrant issued by the Russian Federation," Mateusz Martyniuk, spokesman for Poland's chief prosecutor, told AFP news agency on Wednesday, confirming Russian media reports.
"The warrant automatically requires all Interpol member states to arrest the person for whom the warrant is issued.
"If Mr Zakayev comes to Poland, even though he is not wanted by our country, the police still have the obligation to detain him and bring him before public prosecutors and a court that will rule on his eventual extradition."
On Tuesday, Russia's new ambassador to Poland, Alexander Alexeyev, said Moscow would seek Mr Zakayev's extradition if he visited for the three-day World Chechen Congress.
At the time, a spokesman for Poland's foreign ministry, Marcin Bosacki, said the ministry was aware of "no legal grounds to refuse entry to Poland to Akhmed Zakayev".
Visa
Mr Zakayev has served as a representative of the Chechen rebel government in the West since it was ousted by Russian military action in 2000.
The former rebel culture minister is accused by Russia of armed rebellion, murder and kidnapping.
He told Moscow independent radio station Ekho Moskvy on Wednesday that he had received a visa to go to Poland.
"I am going to go there, yes," he said.
"If there is a problem with me coming to Warsaw, then the Ministry of Foreign Affairs should have denied a visa to me and all conversations should have ended there."
The Chechen congress is expected by its organisers to attract some 200 delegates from the Chechen diaspora.