UN warns of refugee camp dangers to children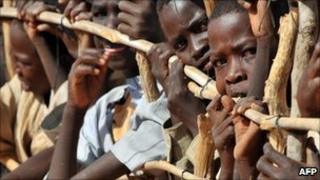 Camps for displaced people are among the most dangerous places for children caught up in war, a UN special investigator says.
Radhika Coomaraswamy, who has produced a report on the camps for the UN human rights council, said there was a lack of protection for children.
She said they were vulnerable to sexual violence, and to forced recruitment by armed groups.
Many thousands in Sudan, Chad and DR Congo live in such camps.
They are there because they are fleeing war, they hope they will find safety - but for children, these camps are often not safe at all, says Ms Coomaraswamy.
In preparing her report for the human rights council, she visited a number of camps, some of them in Sudan's Darfur region.
"The first thing one notices is that they are dangerous, in the sense that you always meet children who have been victims of sexual violence when they went to get firewood or went to the toilet etc - so they are dangerous places," she says.
"Secondly, they are places of idleness. There are situations where children are recruited into armed forces and therefore many have been recruited by one group or another."
In fact, the camps are now the biggest recruiting ground for militia groups looking for child soldiers.
A key cause for the lack of protection for children, Ms Coomaraswamy says, is that there are no uniform standards for these camps.
Some of the camps are run by the UN, some by other aid agencies, some are controlled by national governments, some have schools and some do not.
A first step towards making things safer for displaced children would be, she says, a guarantee that all children are offered at least some regular education - to keep them away from the militias, and to give them some skills, for the time when they can restart their lives again.