Libya sorry for shooting at Italian fishing boat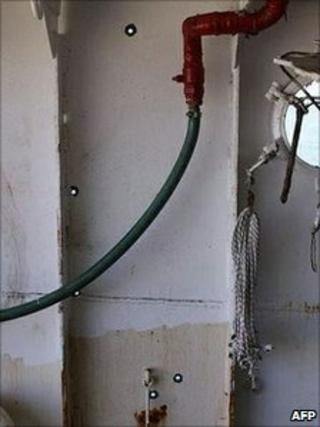 Libya has apologised to Italy after one of its patrol boats fired machine-gun shots at a Sicilian fishing trawler.
The trawler returned to Sicily on Sunday pock-marked with bullet holes. None of its 10 crew were injured.
The patrol boat was one of six supplied by Italy to Libya to help prevent migrants crossing the Mediterranean.
Italian ministers called the incident "serious", but said it was a mistake and would not affect relations between the two countries.
Several Italian military personnel were on board the patrol boat providing technical assistance to the Libyans, according to Italian Interior Minister Roberto Maroni.
"What took place the other night should not have happened and Libya has apologised," Mr Maroni said.
"I imagine they mistook the fishing boat for a ship carrying illegal immigrants, but we will check what happened with an investigation."
Gaspare Marrone, the captain, told the Corriere della Sera newspaper that it was "clear" that the crew were fishermen, dismissing any idea of a misunderstanding.
"They shot to hit us and they could have killed us," he said. "We all lay down hoping we wouldn't be hit."
Mr Marrone said the patrol boat had tried to stop the trawler and then pursued it, firing at intervals of 15-20 minutes.
Earlier, Italian Foreign Minister Franco Frattini said the Libyans had been told to fire into the air, but the bullets had still somehow hit the trawler.
He said the Ariete had been fishing illegally.
Italy recently signed a deal with Libya in order to help curb flows of illegal immigrants travelling by boat from North Africa to the Sicilian islands.
The number of migrants has dropped sharply since the accord came into effect, but activists say the agreement does not protect migrants' rights.