Italy makes 'record' Mafia asset seizure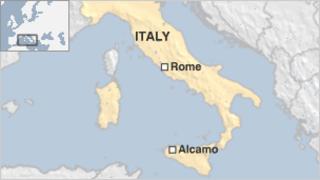 Italian authorities have confiscated assets worth 1.5bn euros (£1.25bn) from a Sicilian businessman accused of working with the Mafia.
It was the largest seizure yet under anti-Mafia laws, officials said.
The businessman, Vito Nicastri, had invested heavily in renewable energy, seen as an emerging way for criminal groups to launder money.
The suspect is thought to be close to Matteo Messina Denaro, considered as the Mafia's current "boss of bosses".
Among the assets seized were 43 wind and solar power companies registered in Sicily and in Calabria, the southern Italian region that is home to the 'Ndrangheta organised crime group.
Buildings, plots of land, and the contents of current accounts and other deposits were also confiscated.
Mr Nicastri, 54, was based in the north-western Sicilian town of Alcamo.
Authorities arrested him along with three others in 2009, as part of the investigation that led to Tuesday's raids, the interior ministry said.