Memorial church of last Russian tsar burns down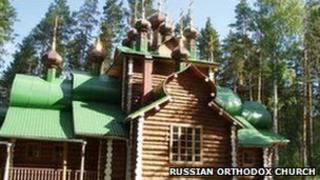 Fire has destroyed a wooden church built on the site where the remains of Russia's last tsar, Nicholas II, and his family were found in the Urals.
Firefighters managed to stop the blaze spreading to other parts of the Ganina Yama monastery near Yekaterinburg.
Fire officials believe candles or stoves inside the church may have started the fire.
The monastery was founded in 2000 at the old mine where the bodies were dumped during the Revolution.
The alarm was raised at 0720 local time on Monday (0120 GMT), and 45 firefighters were sent to tackle the blaze.
"Candles were used in the church which had stove heating," emergencies officials told Russia's Itar-Tass news agency.
"It is not ruled out that this became the cause of the fire."
There are no reports of anyone being injured in the fire.
The church which burnt down was one of seven at the site, each dedicated to a member of the last Russian tsar's family.
A commemoration is held at the monastery annually to mourn the family, who were executed in Yekaterinburg.
Their bodies, brought to the mine on 17 July 1918, were not rediscovered until 1979 when five of them - Tsar Nicholas, Tsarina Alexandra and three of their daughters - were found by an amateur archaeologist. They were reinterred in St Petersburg in 1998.
The bodies of another daughter and the couple's only son were found in the area in 2007.